Upbeat
: Cultivating the Right Attitude to Thrive in Tough Times
Rajesh Setty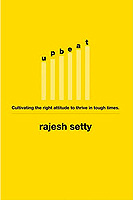 Format:
Paperback, 96pp.
ISBN:
9781935073031
Publisher:
Rvive Books
Pub. Date:
May 1, 2009
Average Customer Review:

For Bulk Orders Call: 626-441-2024

Description and Reviews
From
The Publisher:
Recession makes it hard for everyone. Rising unemployment, weak stock markets, tough credit markets, weak demand, fierce competition for that weak demand, uncertainty about when this will all end are just a start. It seems like there are just too many things out of our control during a recession. It takes a lot to make a significant difference in a good economy. In a bad economy, it takes a significant effort just to produce something meaningful. Rather than going all out (when it is MOST required, ) most people choose to give up quickly, thinking nothing will happen anyway. In other words, they choose to participate in a recession. While this is generally true, there is one thing that is under our control-to have an UPBEAT attitude that's recession-proof. How we survive through the recession and thrive will depend largely on what each of us did before we reached this place and what every one of us will do during these times.

Reviews
"Rajesh Setty's excellent book on starting and building companies during tough economic times is not simply another "how to" book of good practices. It actually improves how you fundamentally think about building your business, both during good and bad times."
—Abe Kleinfeld, president and CEO, nCircle Network Security, Inc.
"In this timely, yet tender work, Setty offers important advice for business people from all walks. His message is simple: Manage your attitude and outlook. During these perilous times, that may be the most important thing that leaders can coach in their people."
—Tim Sanders, author of Saving The World At Work and former Chief Solutions Officer at Yahoo!

About the Author
An entrepreneur, business leader and acclaimed author, Rajesh Setty wrote his first novel at the age of nine. By the age of 13, Setty's first novel had been successfully published. By the age of 16, Setty had a total of six books – four novels, one collection of poems and one book on mathematics -- published. After a nearly 20 year break, Setty decided to write Beyond Code. Most of Setty's career has involved managing people and projects in India, Malaysia, Singapore, France and United States. He has personally managed technology projects in the areas of Wholesale Banking, Customer Relationship Management and eBusiness. In late 2000, Rajesh co-founded CIGNEX and served as its President and CEO until May of 2005. CIGNEX had no external investors. Albeit being one of the most difficult economic times in the recent past, Setty assembled a team of talented people that ensured an average year over year growth of 300% for the company. He continues to serve as the Chairman and Chief Evangelist of CIGNEX. Rajesh Setty lives with his wife Kavitha and son Sumukh in Santa Clara, California.