Why Loyalty Matters
: The Groundbreaking Approach to Rediscovering Happiness, Meaning and Lasting Fulfillment in Your Life and Work
Timothy Keiningham and Lerzan Aksoy with Luke Williams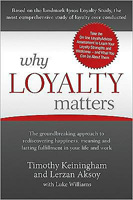 Format:
Paperback, 264pp.
ISBN:
9781935251798
Publisher:
BenBella Books
Pub. Date:
April 6, 2010
For Bulk Orders Call: 626-441-2024

Description and Reviews
From
The Publisher:
Think you know what it takes to be successful and happy? Think again!
If you were to ask anyone what factor contributes most to being successful and happy, you can be virtually certain that not one of them would mention loyalty. And that's a problem. Grounded in the most comprehensive study of loyalty ever conducted, Why Loyalty Matters proves that when it comes to business success, relationship success, and even our overall happiness, loyalty is the difference maker.
In
Why Loyalty Matters
, renowned loyalty experts Timothy Keiningham and Lerzan Aksoy draw from the most comprehensive study of loyalty ever conducted, the landmark Ipsos Loyalty Study, to show why loyalty is critical to our happiness as individuals and our success as a society.
Readers learn:
How to leverage 10 relationship building blocks to shape your interactions at home and work
How organizations can gauge and strengthen employees' loyalty--and why they should
How to boost your company's profits by finding and developing loyal customers
How to achieve career fulfillment through loyalty to your job and coworkers
How to develop more loyalty in your friendships, family, and community
The book includes one-time access to LoyaltyAdvisor.com, so that readers can uncover their loyalty strengths and weaknesses--and what they can do about them! LoyaltyAdvisor, the product of a global, comprehensive effort to identify the loyalties most important to our success and happiness, provides readers with an assessment of their relationship styles and a comparison of their loyalty levels with national norms. LoyaltyAdvisor also allows readers to invite three or more friends, family, or professional colleagues to participate in a confidential evaluation of readers' loyalty to them.

Reviews
"In good times loyalty is important; in challenging times it's essential. Why Loyalty Matters is the best book on loyalty ever written."
—Michael Watkins, bestselling author of The First 90 Days and co-founder of Genesis Advisers
"This is a supremely practical book with a profoundly moral message: that the quality of our lives, the productivity of our organizations, and the depth of our relationships are inextricably related. This book should not be used only as a guide for leaders, but as a guide for life."
—Joseph Grenny, New York Times bestselling co-author of Influencer: The Power to Change Anything
"Loyalty is a key ingredient in creating a high performance culture. Those leaders, athletes, or coaches who can leverage the power of loyalty have a distinct home field advantage. Why Loyalty Matters is the first playbook of its kind."
—David Kasiarz, Senior Vice President, Global Compensation and Benefits, American Express
"Why Loyalty Matters is a wonderful, timely book. Reading it can improve your relationships, your work, and actually make you happier."
—Tal-Ben Shahar, New York Times bestselling author of Happier
"Why Loyalty Matters is fun to read, practical to do, and invaluable to your success."
—Keith Ferrazzi, New York Times bestselling author of Never Eat Alone
"The idea of loyalty is much more than a platitude, it is the foundation by which people develop successful businesses and happy lives. Anyone who seeks to cultivate loyal customers, employees, and loved ones should not only read this book, but mark it up as a reference guide."
—Adrian Gostick and Chester Elton, New York Times bestselling authors of The Carrot Principle
"Loyalty matters! It's so direct and fundamental that we lose sight of just how important it really is. Keiningham and Aksoy brilliantly illustrate that the key to lasting success and happiness--in all parts of life, not just work--hinges on our human ability to be loyal. The message of Why Loyalty Matters is timeless--and timely."
—Stewart Friedman, bestselling author of Total Leadership: Be a Better Leader, Have a Richer Life
"As the CEO of 2,400 employees ranging from veterans to boomers, Xers to Nexters, it is challenging to understand motivation and engagement. Why Loyalty Matters is a brilliant and thought-provoking book that not only identifies issues, but also provides real-life answers."
—Britt Berrett, President & CEO, Medical City & Medical City Children's Hospital, Dallas, TX
"Why Loyalty Matters looks at loyalty in bold, new ways. By taking both a broad and deep view of loyalty--and how it affects our life, our work, and our societies, Keiningham and Aksoy have provided a promising roadmap for our future. Timely, useful, and fun to read!"
—Katherine Lemon, Professor of Marketing, Boston College, and Editor of the Journal of Service Research

About the Authors
Tim Keiningham
is a world-renowned authority in the field of loyalty measurement and management. He is Chief Strategy Officer and Executive Vice President for Ipsos Loyalty, one of the world's largest research organizations. A prolific author, Tim has coauthored numerous books on loyalty and service: Loyalty Myths, The Customer Delight Principle, Service Marketing and Return on Quality. Tim is also an acclaimed scientific researcher, having won numerous awards for his research. He is one of only a very small number of scientific researchers to have twice won best paper from the Journal of Marketing, the most prestigious scientific journal all of management and economics (as measured by the citation index). Residence: Wayne, NJ
Lerzan Aksoy
is an acclaimed expert in the science of loyalty management. She is Associate Professor of Marketing at Fordham University, New York, NY. Lerzan has coauthored and co-edited several books on loyalty and service: Loyalty Myths, Customer Lifetime Value and Profit Maximization Through Customer Relationship Marketing.
Timothy Keiningham and Lerzan Aksoy are two of the world's most highly acclaimed loyalty experts. Tim is global chief strategy officer at Ipsos Loyalty, one of the world's largest market research firms. Lerzan is associate professor at Fordham University in New York City. Keiningham and Aksoy have written and coauthored eight books on loyalty and service. Previous to Why Loyalty Matters, they coauthored Loyalty Myths, which was ranked as the Number 4 best business book of 2006 by The Globe and Mail newspaper (Toronto, Canada), one of the 30 best business books of 2006 by Soundview Executive Book Summaries, and was a 2007 finalist for the Berry-AMA Book Prize for Best Book in Marketing.