If You Will Lead
: Enduring Wisdom for 21st-Century Leaders
Doug Moran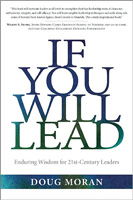 Format:
Paperback, 240pp.
ISBN:
9781572842748
Publisher:
Agate B2
Pub. Date:
December 4, 2018
Average Customer Review:


For Bulk Orders Call: 626-441-2024

Description and Reviews
From
The Publisher:
If You Will Lead: Enduring Wisdom for 21st-Century Leaders
provides readers with guidance for any sort of leadership journey. Whether you are a seasoned executive or just starting your first leadership role, this book will help you grow as a leader. Doug Moran starts by posing four critical questions for every reader to consider:
1. Who am I?
2. What do I want?
3. How can I get others to make their own choice to follow me?
4. How can I earn and retain the privilege to lead?
If You Will Lead
helps each reader discover his or her own answers to these pivotal questions.
Moran has taken Rudyard Kipling's classic poem "If--" and created a leadership framework out of it that comprises sixteen eternal and essential leadership attributes. He draws on noteworthy historical events to illustrate how great leaders like Martin Luther King, Abraham Lincoln, Mother Teresa, and others applied these leadership attributes to achieve extraordinary results.
If You Will Lead
uses the power of storytelling to teach its leadership lessons. It combines bigger-than-life examples with everyday stories to help leaders apply its lessons to their own leadership challenges, whatever they may be. It's a practical guide that offers numerous resources and tools to help readers hone their skills and achieve their full potential.

Reviews
"This book is thoughtful, comprehensive, pragmatic, and inspiring, and grounded in selfawareness, which is the fundamental requirement for leadership excellence. With its well-drawn examples of leadership attributes, If You Will Lead is itself a courageous act of leadership. Serious leaders interested in transformation for themselves or their organizations ought to savor it, journal with it, and refer to it often as a way to calibrate, create, and contribute results that matter."
—Christine Wahl, MCC, author of Be Your Own Coach, and On Becoming a Leadership Coach, creator of the Georgetown University Leadership Coaching Program
"I was introduced to 'If—' at a young age by my mom, and it is a poem that I keep in my mind at all times as I try to do my job to the very best of my ability. Many of the positive lessons in the poem have been very applicable for me. It's a terrific poem to study for those that aspire to be in a position of leadership."
—Brad Stevens, men's basketball head coach, Butler University
"Doug Moran's humane and insightful study reminds us of some of the timeless qualities great leaders need. And even if leaders sometimes have to 'govern in prose,' drawing inspiration from poetry is a fine idea."
—Stefan Stern, visiting professor, Cass Business School, London, and director of strategy, Edelman UK
"This book will motivate leaders at all levels to strengthen their key leadership traits of character, authenticity, integrity, and self-efficacy. You will learn tangible leadership techniques and walk along side some of history's best-known figures, from Lincoln to Mandela. This a truly inspirational book."
—Wendy S. Swire, Johns Hopkins Carey Graduate School of Business and coauthor, Anytime Coaching: Unleashing Employee Performance
"This is an engaging primer for anyone committed to becoming a leader at work or in life. Using compelling examples, Doug Moran has provided a valuable series of leadership lessons that are relevant and useful to all of us. This book will make a difference to you and to all who look to you for leadership."
—R. Jack Weber, professor emeritus, Darden Graduate School of Business, University of Virginia
"Doug Moran looks at the practice of leadership from a unique perspective—through the lens of a literary classic. It's a fascinating way for today's managers to think about their own leadership brand."
—Steve Arneson, Ph.D., president, Arneson Leadership Consulting

About the Author
Doug Moran
has more than twenty-five years of leadership experience in a variety of industries. He has worked for Verizon and Capital One (where he was CIO), and served the Governor of the Commonwealth of Virginia as deputy secretary of Health and Human Resources, chief operating officer of the department of social services, and telecommunications director. His leadership consultancy, If You Will Lead LLC, focuses on leadership development, executive coaching, organization excellence, and infrastructure strategy. He is certified by the International Coach Federation, received his professional training from Georgetown University, and earned a bachelor degree from James Madison University. Married and the father of two children, Moran lives in Richmond, Virginia, and serves on the boards of the Virginia Children's Health Insurance Program Advisory Commission and the Better Housing Coalition.

Find Items On Similar Subjects

Lead with Purpose
: Giving Your Organization a Reason to Believe in Itself