The Reputation Game
: The Art of Changing How People See You
David Waller and Rupert Younger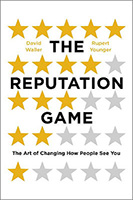 Format:
Hardcover, 304pp.
ISBN:
9781786070715
Publisher:
Oneworld Publications
Pub. Date:
November 14, 2017
Average Customer Review:

For Bulk Orders Call: 626-441-2024

Description and Reviews
From
The Publisher:
It's a game you're already playing, whether you like it or not. You can choose to ignore it and remain at the mercy of what others say about you, or you can take the time to learn how it works. For those who do the potential benefits are unlimited.
Through pioneering research and interviews with a host of major figures ranging from Jay-Z and LinkedIn co-founder Reid Hoffman to Bernie Madoff and Man Booker prize-winning Hilary Mantel, Waller and Younger reveal the key mechanisms that make and remake our reputations, providing the essential guide to the most important game in business and in life.

Reviews
From the soft power of nation states to the brand popularity of commercial products, reputation is supremely important. This interesting book places the issue in its rigorously argued context – an important matter for every senior executive in the public and private sectors.
—Lord Patten, Chancellor, University of Oxford
You'll learn why reputations are more valuable than money; you'll learn how they're built and tended and enriched; and how, if neglected, they can catastrophically implode. It might have been called, "How to ensure that everybody knows just how good you know you are really."
—Sir Martin Sorrell, CEO of WPP
The insights in The Reputation Game are a masterclass of pattern recognition. This book shows us that no matter who you are, your industry or hustle, reputational capital is at the centre of success or failure. Waller and Younger use as examples the rise and fall of great companies, countries, gangsters, and pop-culture icons to show us the moments and choices that are truly the "art of changing how people see us all".
—Steve Stoute, CEO of Translation LLC
In life and in business a good reputation is probably our most prized possession, hard won and easily lost. This book provides insight into the sources of reputation, illustrates by case study the impact of loss and charts the route to recovery. It is a valuable contribution to this increasingly important topic.
—Sir Roger Carr, chairman of BAE Systems
An insightful and really rather fascinating study of what one might argue is the issue of our age: the creation and management of a reputation. The authors have clearly managed to get great access to a huge number of people and the results make for very compelling reading. It's well-written, too. In fact, it's required reading for anyone who truly wants to understand the modern media age.
—Tom Bradby, Presenter, ITV News at Ten
Trust is the foundation of friendship, society, business, and brand. A must read for those who intend to build a reputation of authenticity and enduring value.
—Biz Stone, Co-founder, Twitter

About the Authors
David Waller
is a partner in FTI Consulting, a global consulting firm, where he specialises in developing and executing strategic communications programmes for international companies, financial institutions and governments.
Rupert Younger
is founder director of the University of Oxford's Centre for Corporate Reputation, where he researches how reputations are created, sustained, destroyed and rebuilt.