Breaking Bad Habits
: Defy Industry Norms and Reinvigorate Your Business
Freek Vermeulen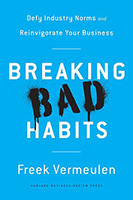 Format:
Hardcover, 272pp.
ISBN:
9781633693821
Publisher:
Harvard Business Review Press
Pub. Date:
November 14, 2017
Average Customer Review:

For Bulk Orders Call: 626-441-2024

Description and Reviews
From
The Publisher:
Have you ever wondered why most newspapers are so large? Or why management consultants work such long hours? Or why hotels still insist on having check-in desks? Ask anyone in these industries, and their answer will be the same: "That's the way we've always done it."
"Best practices" may be widespread, but that doesn't mean they're effective. In many instances the opposite is true: best practices can be outdated, harmful, and a hindrance to innovation. These bad practices are all too common in organizations, and managers and executives can be blind to their pernicious effects. Since they've worked in the past, or have been adopted with success by other firms, their purpose or effectiveness is rarely questioned. As a consequence, these practices spread and persist.
In
Breaking Bad Habits
, Freek Vermeulen, a strategist with a keen eye for the absurd, offers the tools to identify these practices and rid them from your organization. And, most of all, he presents a compelling case for how eliminating popular but outworn ideas, processes, and strategies can create new opportunities for innovation and growth.
Brimming with examples of norm-defying organizations in an eclectic range of industries—including IVF clinics, hotels, newspapers, and a famous London theater—
Breaking Bad Habits
will make you rethink your long-held beliefs about industry norms while encouraging you to reinvigorate your business by breaking out of the status quo.

Reviews
"In this expertly researched and engaging book, Freek Vermeulen uncovers one of the greatest sins of managers: best practices. Vermeulen offers an antidote to outmoded practices and the tools to replace them with more innovative alternatives. An important book for any manager seeking to do better."
—Morten Hansen, professor, University of California, Berkeley; author, Great by Choice and Collaboration
"With fascinating stories grounded in captivating research, Freek Vermeulen makes a powerful case about how important it is to break away from old habits if you want to open new avenues of growth and innovation."
—Ranjay Gulati, Jaime and Josefina Chua Tiampo Professor of Business Administration, Harvard Business School
"Breaking Bad Habits is full of sharp examples and insights that challenge our common beliefs. It is a wake-up call for all of us to adopt change as a key capability, test our limits, and break boundaries."
—Dame Mary Marsh, Chair, Board of Trustees, Royal College of Pediatrics and Child Health, London
"A must-read for leaders, especially the ones who are successful and do not yet see the urgency for change."
—Frank van Oers, Managing Partner, Vorwerk & Co. KG; Chairman, Supervisory Board, Wessanen NV
"In Breaking Bad Habits , Freek Vermeulen shows how best practices can eventually harm our industries and our societies while also offering a witty perspective on how to move beyond them. This book is especially helpful for leaders who are striving to innovate while trying to overcome organizational inertia."
—Laurence Capron, Professor of Strategy and the Paul Desmarais Chaired Professor of Partnership and Active Ownership, INSEAD; coauthor, Build, Borrow, or Buy

About the Author
Freek Vermeulen
is Professor of Strategy and Entrepreneurship at the London Business School. He is the first-ever winner of the school's Excellence in Teaching Award and has received various international prizes for his research on strategic management. He writes regularly for Harvard Business Review, the Financial Times, Forbes, and the Wall Street Journal, among others. In the past, the Financial Times has described him as a "rising star" and a "new management guru." Author social media/website info: twitter.com/Freek_Vermeulen, freekvermeulen.com/