Creating Great Choices
: A Leader's Guide to Integrative Thinking
Jennifer Riel and Roger L. Martin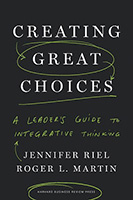 Format:
Hardcover, 256pp.
ISBN:
9781633692961
Publisher:
Harvard Business Review Press
Pub. Date:
September 19, 2017
Average Customer Review:

For Bulk Orders Call: 626-441-2024

Description and Reviews
From
The Publisher:
Move Beyond Trade-Off Thinking
When it comes to our hardest choices, it can seem as though making trade-offs is inevitable. But what about those crucial times when accepting the obvious trade-off just isn't good enough? What do we do when the choices in front of us don't get us what we need? In those cases, rather than choosing the least worst option, we can use the models in front of us to create a new and superior answer. This is integrative thinking.
First introduced by world-renowned strategic thinker Roger Martin in
The Opposable Mind
, integrative thinking is an approach to problem solving that uses opposing ideas as the basis for innovation. Now, in
Creating Great Choices
, Martin and his longtime thinking partner Jennifer Riel vividly illustrate how integrative thinking works, and how to do it.
The book includes fresh stories of successful integrative thinkers that will demystify the process of creative problem solving, as well as practical tools and exercises to help readers engage with the ideas. And it lays out the authors' four-step methodology for creating great choices, which can be applied in virtually any context. The result is a replicable, thoughtful approach to finding a "third and better way" to make important choices in the face of unacceptable trade-offs.
Insightful and instructive,
Creating Great Choices
blends storytelling, theory, and hands-on advice to help any leader or manager facing a tough choice.

Reviews
"Creating Great Choices is the rarest of business books that teaches decision makers how to think, not what to think. I found it superb and wholly original."
—Malcolm Gladwell, bestselling author, The Tipping Point, Blink, and Outliers; staff writer, The New Yorker
"This book contains multitudes. Two talented strategists offer vivid stories to unlock your creativity, strong evidence to challenge your assumptions, and practical exercises to sharpen your thinking. I'll be recommending it to leaders, students, and anyone else who wants to get better at problem solving."
—Adam Grant, New York Times–bestselling author, Give and Take and Originals; coauthor, Option B
"Integrative thinking is powerful. It provides a concrete way to leverage diverse voices and to collaboratively create better choices. I have worked hard to become a practitioner of this approach of finding the better third way, because I truly believe it leads to more effective and more creative choices. Creating Great Choices provides an essential resource for thinking differently that can help leaders resolve some of their toughest problems."
—David Taylor, Chairman and CEO, Procter & Gamble
"Integrative thinking is a critical skill for business and life. The Opposable Mind introduced the idea. With practical and inspirational approaches, Creating Great Choices sets you on the path to mastery."
—Tim Brown, CEO, IDEO; author, Change by Design
"Integrative thinking is a powerful idea that offers new answers to our toughest problems. In this compelling work, Riel and Martin show us how to use this fresh mental model to make great choices rather than settle for weak compromises. Bursting with practical tips, engaging exercises, and keen insights, this book belongs within arm's reach of every leader trying to navigate the future."
—Daniel H. Pink, author, Drive and To Sell Is Human
"In an age where society is tending more and more to lock in on one line of thinking, Riel and Martin give us the tools to break away from our prejudices and eliminate our blind spots, giving us the chance to arrive at a different and better conclusion. A critical tool in both business and life."
—Lowell C. McAdam, Chairman and CEO, Verizon Communications

About the Authors
Jennifer Riel
is an adjunct professor at the Rotman School of Management at the University of Toronto and a strategic adviser to senior leaders at a number of Fortune 500 companies. She is coauthor, with Roger Martin and A.G. Lafley, of the Playing to Win Strategy Toolkit (Harvard Business Review Press).
Roger Martin
is an author, business school professor, and strategy adviser to CEOs. He is Director of the Martin Prosperity Institute at the Rotman School of Management, where he served as Dean from 1998 to 2013. He is a frequent contributor to Harvard Business Review and other leading publications and has published nine books, including Playing to Win and The Opposable Mind.