How to Be Happy at Work
: The Power of Purpose, Hope, and Friendship
Annie McKee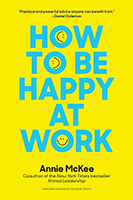 Format:
Paperback, 272pp.
ISBN:
9781633696808
Publisher:
Harvard Business Review Press
Pub. Date:
September 5, 2017
Average Customer Review:

For Bulk Orders Call: 626-441-2024

Description and Reviews
From
The Publisher:
Life's too short to be unhappy at work
"I'm working harder than I ever have, and I don't know if it's worth it anymore." If you're a manager or leader, these words have probably run through your mind. So many of us are feeling fed up, burned out, and unhappy at work: the constant pressure and stress, the unending changes, the politics—people feel as though they can't give much more, and performance is suffering.
But it's work, after all, right? Should we even expect to be fulfilled and happy at work?
Yes, we should, says Annie McKee, coauthor of the bestselling
Primal Leadership
. In her new transformative book, she makes the most compelling case yet that happiness?and the full engagement that comes with it?is more important than ever in today's workplace, and she sheds new light on the powerful relationship of happiness to individual, team, and organizational success.
Based on extensive research and decades of experience with leaders, this book reveals that people must have three essential elements in order to be happy at work:
• A sense of purpose and the chance to contribute to something bigger than themselves
• A vision that is powerful and personal, creating a real sense of hope
• Resonant, friendly relationships
With vivid and moving real-life stories, the book shows how leaders can use these powerful pillars to create and sustain happiness even when they're under pressure. By emphasizing purpose, hope, and friendships they can also ensure a healthy, positive climate for their teams and throughout the organization.
How to Be Happy at Work
deepens our understanding of what it means to be truly fulfilled and effective at work and provides clear, practical advice and instruction for how to get there—no matter what job you have.

Reviews
"Annie McKee brings her wise voice and well-seasoned experience to that deep and perpetual conundrum, How to Be Happy at Work. Her insights offer eminently practical and powerful advice anyone can benefit from."
—Daniel Goleman, author, Emotional Intelligence; coauthor, Altered Traits
"Today's organizations need employees who can take risks, find new and different ways to achieve goals, and use their emotional intelligence to deal with challenges. In this practical and compelling book, Annie McKee shares how business leaders can learn to be hopeful, find a path to engagement and happiness, reach their potential, and help their organizations succeed."
—Ann Schulte, Global Leader, Learning & Leadership Development, Procter & Gamble
"Whether you're just starting your working life or reassessing your priorities in midcareer, Annie McKee's book is essential reading for anyone searching for the 'why'—not just the 'what'—in their life and work."
—Gavin Patterson, CEO, BT Group plc
"McKee's book revolutionizes what we thought we knew about happiness—what it is, where we can find it, and why we deserve it. A must-read for anyone seeking fulfilment in life and work."
—Marshall Goldsmith, international bestselling author, What Got You Here Won't Get You There and Triggers

About the Author
Annie McKee
is an advisor to leaders of Fortune 500 companies, governments, and NGOs around the globe. She is a Senior Fellow at the University of Pennsylvania's Graduate School of Education and a coauthor of the bestseller Primal Leadership with Daniel Goleman and Richard Boyatzis, Resonant Leadership with Richard Boyatzis, and Becoming a Resonant Leader with Richard Boyatzis and Frances Johnston.