Talent Wins
: The New Playbook for Putting People First
Ram Charan, Dominic Barton, Dennis Carey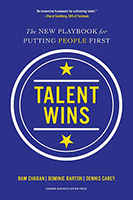 Format:
Hardcover, 256 pp.
ISBN:
9781633691186
Publisher:
Harvard Business Review Press
Pub. Date:
March 6, 2018
Average Customer Review:

For Bulk Orders Call: 626-441-2024

Description and Reviews
From
The Publisher:
Most executives today recognize the competitive advantage of human capital, and yet the talent practices their organizations use are stuck in the twentieth century. Typical HR talent-planning processes (which are too expensive and take too long to implement) are designed for predictable environments, traditional ways of getting work done, and organizations where "lines and boxes" still define how people are managed. As work and organizations have become more fluid—and business strategy is no longer about planning years out but about sensing and seizing new opportunities and adapting to a constantly changing environment—companies must deploy talent in new ways to remain competitive.
Written for CEOs and leaders across the organization, Talent Wins provides a much-needed framework for transforming how companies acquire, manage, and deploy talent—for today's agile, digital, analytical, technologically driven strategic environment—and for creating the HR function the business needs. With examples of companies that are well along the path of reinventing their approaches to talent, such as Amgen, AT&T, BlackRock, GE, Haier, J&J, and PepsiCo, as well as the juggernauts and the start-ups of Silicon Valley, this book provides leaders with a seven-part plan for:
• Integrating talent and capital
• Making talent drive strategy
• Designing and redesigning the work of the organization
• Scaling up individual talent
• Creating an M&A strategy for talent
• Reinventing the role of HR
• Living the talent agenda
Providing deep, expert insight and advice for what needs to change and how to change it,
Talent Wins
is the definitive book for reimagining and creating the talent-driven organization.

About the Authors
Ram Charan
is a world-renowned business adviser, author, teacher, and speaker who has spent the past 35 years working with CEOs, boards, and executives of the world's top companies. Formerly on the faculties of Harvard Business School and Northwestern University, he is the author of 25 books that have sold over 2 million copies and have been published in over a dozen languages, including the best-selling Execution , Confronting Reality , and The Attacker's Advantage . In addition to advising and coaching leaders, Charan serves on a number of boards.
Dominic Barton
is the global managing partner of McKinsey & Company. Since joining the firm in 1986, he has advised clients in a range of industries, including banking, consumer goods, high tech, and industrial. Before becoming global managing director, he was McKinsey's chairman in Asia from 2004 to 2009, based in Shanghai, and led McKinsey's office in Korea from 2000 to 2004. Barton leads McKinsey's work on the future of capitalism, long-term value creation, and the role of business leadership in society. He has authored more than 80 articles on capitalism, leadership, financial-market development, Asia, history, and the issues and opportunities facing global and Asian markets, and is the coauthor of three books including Reimagining Capitalism .
Dennis Carey
, PhD is Vice Chairman of Korn Ferry, where he recruits board directors, CEOs, and their direct reports. He has placed and assessed some of the most successful CEOs and directors for over 75 leading companies in the Fortune 500. He founded several forums for chairmen, CEOsc and C-suite executives including The Prium, the CEO Academy, and Academies for CFOs and CHROs of Americas best-managed enterprises. He has published four books and over 50 refereed journal articles. His most recent book, Boards That Lead , coauthored with Ram Charan and Mike Useem, was cited as book of the year by Directors & Boards Magazine. Carey also teaches corporate governance at the Wharton School of the University of Pennsylvania. He has served on both public and private technology boards.
Authors' Social Media: ram-charan.com, mckinsey.com, kornferry.com, denniscarey.com