The Three-Box Solution
: A Strategy for Leading Innovation
Vijay Govindarajan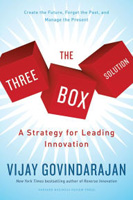 Format:
Hardcover, 256pp.
ISBN:
9781633690141
Publisher:
Harvard Business Review Press
Publication Date:
April 26, 2016
Average Customer Review:


For Bulk Orders Call: 626-441-2024

Description and Reviews
From
The Publisher:
How to Innovate and Execute
Leaders already know that innovation calls for a different set of activities, skills, methods, metrics, mind-sets, and leadership approaches. And it is well understood that creating a new business and optimizing an already existing one are two fundamentally different management challenges. The real problem for leaders is doing both, simultaneously. How do you meet the performance requirements of the existing business—one that is still thriving—while dramatically reinventing it? How do you envision a change in your current business model before a crisis forces you to abandon it?
Innovation guru Vijay Govindarajan expands the leader's innovation tool kit with a simple and proven method for allocating the organization's energy, time, and resources—in balanced measure—across what he calls "the three boxes":
• Box 1: The present—Manage the core business at peak profitability
• Box 2: The past—Abandon ideas, practices, and attitudes that could inhibit innovation
• Box 3: The future—Convert breakthrough ideas into new products and businesses
The three-box framework makes leading innovation easier because it gives leaders a simple vocabulary and set of tools for managing and measuring these different sets of behaviors and activities across all levels of the organization. Supported with rich company examples—GE, Mahindra & Mahindra, Hasbro, IBM, United Rentals, and Tata Consultancy Services—and testimonies of leaders who have successfully used this framework, this book solves once and for all the practical dilemma of how to align an organization on the critical but competing demands of innovation.

Reviews
"Simple, powerful, and purposeful."
—Jeffrey R. Immelt, Chairman and CEO, General Electric Company
"The Three-Box Solution presents a simple, yet powerful framework to simultaneously optimize continuous process improvement and breakthrough innovation. Inspiring for management executives."
—Zhang Ruimin, Founder, Chairman, and CEO, Haier Group
"Govindarajan's Three-Box Solution provides a framework for balancing the imperatives of the present with the demands of the future. It is a construct that permeates all our strategic thinking."
—Anand G. Mahindra, Chairman and Managing Director, Mahindra Group
"If your company needs to stop doing what it's done and branch out in new and profitable ways, this is the book for you."
—Marshall Goldsmith, New York Times and Wall Street Journal bestselling author, Triggers
"The Three-Box Solution is a superb guidance manual for anyone formulating and driving a long-term company strategy. An excellent resource for managers and leaders at all levels."
—Omar Ishrak, Chairman and CEO, Medtronic
"Govindarajan provides a winning combination of strategic insights and actionable steps designed to help virtually any business or organization build a better future."
—Ajay Banga, President and CEO, MasterCard Inc.
"At PepsiCo, we practice what Govindarajan preaches."
—Indra K. Nooyi, Chairman and CEO, PepsiCo, Inc.

About the Author
Vijay Govindarajan
(known as VG) is the Coxe Distinguished Professor at Dartmouth's Tuck School of Business, a Marvin Bower Fellow at Harvard Business School, and widely regarded as one of the world's leading experts on strategy and innovation. He is the author of many books and articles, including the New York Times bestseller Reverse Innovation.