Becoming a Leader of Character
: 6 Habits That Make or Break a Leader at Work and at Home
James L. Anderson and Dave Anderson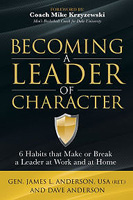 Format:
Paperback, 218pp.
ISBN:
9781630479374
Publisher:
Morgan James Publishing
Publication Date:
October 11, 2016
Average Customer Review:

For Bulk Orders Call: 626-441-2024

Description and Reviews
From
The Publisher:
While many books focus on developing managerial competencies, most leadership failures are the result of a failure in character, not a failure in competence. But, just like how you don't get in shape by reading a fitness magazine, you don't become a Leader of Character by reading a book on Character. You have to DO what you want to BE! Leaders of Character is a "workout plan" designed to develop six Habits of Character by providing small, daily exercises that strengthen your character muscles for the bigger character tests all leaders face.

Reviews
"Wow! What a book - in fact, THE book that should be on every modern leader's desk...I promise you'll be writing in the margins and highlighting pages as you reflect on the habits you need to change."
—Jeb Blount, best selling author of People Follow You.
"Becoming a Leader of Character is an uncomplicated approach to developing a leader's most important leadership tool - character."
—Joe DePinto, President and CEO, 7-Eleven Inc.
"Breaking away from the numbing array of authors dealing with character and leadership, the Andersons - father and son - not only define what character is and show why it is essential in leaders, they also describe how it is developed."
—Lieutenant General David Palmer, USA Retired, Former Superintendent, United States Military Academy at West Point
"When fresh voices put a new perspective on something and still make it accessible to all of us, I stop and pay attention."
—Karen Dillon, former Editor of the Harvard Business Review and author of New York Times best-seller How Will You Measure Your Life.

About the Author
General James L Anderson, PhD. After graduating from West Point, General Jim Anderson spent a total of 41 years leading soldiers in the United States Army. His served twenty-four years at Master of the Sword as the Head of the Physical Education Department developing our nation's future Army officer corps. He was an Army Ranger School instructor, and a veteran of two tours in combat in Vietnam earning a Silver Star, two Bronze Stars for Valor, and a Purple Heart while leading soldiers in combat. He is the best selling author of The West Point Fitness and Diet Book and The Competitive Edge along with hundreds of journal articles and TV and radio guest appearances. Dave Anderson Dave graduated from West Point and served as a field artillery forward observer during Operation Desert Storm. He earned a Bronze Star while leading soldiers in combat. After the Army, Dave joined a Fortune 50 company where he spent twenty years in sales and various sales leadership positions winning multiple sales and leadership awards. He now owns Anderson Leadership Solutions as a leadership speaker and consulting expert. He hosts a syndicated leadership talk radio show (IMPACT Talk Radio) and has written over 400 leadership articles posted on his website www.andersonleadershipsolutions.com.