Small Acts of Leadership
: 12 Intentional Behaviors that Lead to Big Impact
G. Shawn Hunter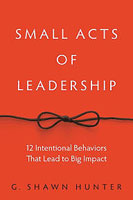 Format:
Hardcover, 224pp.
ISBN:
9781629561363
Publisher:
Routledge
Publication Date:
October 20, 2016
Average Customer Review:

For Bulk Orders Call: 626-441-2024

Description and Reviews
From
The Publisher:
In business today, there is no offline and there is no downtime. Professionals are both exhausted and depleted. Being constantly tethered to our work through technology makes us overwhelmed and shortsighted, and deprives us of time for meaningful reflection or thoughtful connection to our professional communities, and often even to our own families.
For us to thrive—not simply survive—in this accelerating economy, we need to adopt small, intentional behaviors and practice them each day. From simply taking care of our rest and exercise to building our self-confidence and embracing challenges, author Shawn Hunter's latest book
Small Acts of Leadership
will guide you through a series of incremental steps you can take to build a stronger version of yourself and make a broader impact in the world.
Weaving in personal life stories and meaningful interviews with business leaders around the world, Hunter presents the reader with twelve critical competencies that are consistently present in the daily behaviors of today's most successful leaders.

Reviews
"Engrossing and compelling. Shawn shows how anyone can step up and quietly take the lead with small, intentional acts each day."
—Susan Cain, co-founder of Quiet Revolution and New York Times bestselling author of QUIET
"Hunter has done the nearly impossible--he has created a business book that is simultaneously wise, insightful and incredibly enjoyable to read. Buy it now, Read it and reap the rewards."
—Hap Klopp, Founder of The North Face, and bestselling author of ALMOST
"Small Acts of Leadership is a terrific and enjoyable read. It dispels the notion that great leadership is something bestowed upon people at birth. This book demonstrates that grit and perseverance combined with a willingness to learn are keys to taking one's leadership to another level. Reading this book and applying its principles will make the reader a better leader, reading it twice might just help to make the reader a transformational leader!"
—Tom DiDonato, SVP Human Resources, Lear Corporation
"What if you had a trusted mentor and friend who was there to guide and support you on your leadership path? That's what Shawn Hunter provides in Small Acts of Leadership. A gifted observer and story teller, Shawn shares how small mindful acts and clear intention can make the difference for you not just as a leader, but as a person."
—Scott Eblin, author of Overworked and Overwhelmed: The Mindfulness Alternative

About the Author
Shawn Hunter
is a serial entrepreneur, best-selling author, former executive, and the founder and president of Mindscaling, a company dedicated to creating beautiful and intelligent online learning products. Hunter started his professional journey as an entrepreneur when he co-founded Targeted Learning Corporation with his father, Hal Hunter, PhD. Targeted Learning was acquired in February 2007 by Skillsoft, where Hunter then worked as executive producer & vice president for Leadership Solutions until July 2015. In these positions, Hunter spent more than a decade interviewing, collaborating with, and filming hundreds of leading business authors, executives, and business school faculty in an effort to assemble video learning solutions. The author of Out*Think, his latest book shows how a new style of leadership is emerging from those who start small and adopt incremental change into their everyday lives for big impact.