The Five Thieves of Happiness
John B. Izzo, Ph.D.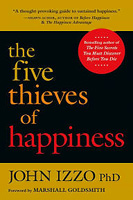 Format:
Paperback, 160pp.
ISBN:
9781626569324
Publisher:
Berrett-Koehler Publishers
Pub. Date:
January 2, 2017
Average Customer Review:

For Bulk Orders Call: 626-441-2024

Description and Reviews
From
The Publisher:
Stop Seeking Happiness; Just Get Out of Its Way!
Happiness is our natural state, for each of us and for humanity as a whole, argues John Izzo. But that happiness is being stolen by insidious mental patterns that he depicts as thieves: the thief of control, the thief of conceit, the thief of coveting, the thief of consumption, and the thief of comfort. He discovered these thieves as he sought the true source of happiness during a year-long sabbatical, walking the Camino de Santiago in Spain and living in the Andes of Peru. This thoughtful and inspiring book describes the disguises these thieves wear, the tools they use to break into our hearts, and how to lock them out once and for all. Izzo shows how these same thieves of personal happiness are destroying society as well. This book will help us all discover, develop, and defend the happiness that is our true nature while creating a world we all want to live in.

Reviews
"Most of us are waiting for happiness to be given to us from the 'outside.' John shows us how to find it on the 'inside.' I hope this book helps you as much as it helped me."
—Marshall Goldsmith, bestselling author of What Got You Here Won't Get You There
"A powerful guide to becoming world-class happy."
—Robin Sharma, #1 bestselling author of The Leader Who Had No Title and The Monk Who Sold His Ferrari and founder of The Titan Academy
"Five Thieves is a perfect complement to Five Secrets. Dr. Izzo gives us not only a pencil with which to sketch the good but now the eraser to rid the bad."
—Dr. Geoff Smart, founder and Chairman, ghSMART, and coauthor of Who
"In a world on the brink of either returning to the dark ages or entering the next great renaissance, John's book comes along to help us remember that happiness is available to us all, despite our circumstances, if we become present to the things that are keeping us from it and choose it for ourselves."
—KoAnn Vikoren Skrzyniarz, founder and CEO, Sustainable Brands
"Skip this book and you will steal from yourself. The Five Thieves offers a gift of awareness and a vision for finding peacefulness within ourselves and our society."
—Noah Blumenthal, bestselling author of Be the Hero
"The Five Thieves of Happiness is brilliantly conceived, beautifully written, and thoroughly engaging. John Izzo gently challenges, provokes, and nudges us to rethink our fundamental assumptions about the pursuit of happiness and how we may just be picking our own pockets of the well-being that we seek. It's a sparkling gem of a book, rich in timeless wisdom and abounding in contemporary truths—a book that you will want to return to again and again as you ponder what it means to live a good life."
—Jim Kouzes, coauthor of The Leadership Challenge and Dean's Executive Fellow of Leadership, Leavey School of Business, Santa Clara University
"Happiness is a choice, but it requires effort and wisdom to pursue. In this thought-provoking book, Izzo helps identify the biggest stumbling blocks so that you can find a clearer path to sustained happiness and meaning in your life."
—Shawn Achor, happiness researcher and New York Times bestselling author of Before Happiness
"Many people have spent many decades searching for the lost secret of happiness, but John Izzo is the one who found it and shows us how to steal it back, naturally! For anyone hoping to live better, this book is an essential—and perhaps life-changing—read."
—Richard Leider, bestselling author or coauthor of The Power of Purpose, Repacking Your Bags, Life Reimagined, and Work Reimagined

About the Author
John Izzo
, PhD, is a sought-after speaker and powerful storyteller who is the author or coauthor of six books, including The Five Secrets You Must Discover Before You Die, Stepping Up, and Awakening Corporate Soul.