Pacing for Growth
: Why Intelligent Restraint Drives Long-term Success
Alison Eyring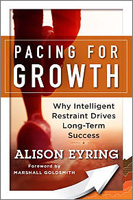 Format:
Paperback, 192pp.
ISBN:
9781626568174
Publisher:
Berrett-Koehler Publishers
Pub. Date:
February 6, 2017
Average Customer Review:

For Bulk Orders Call: 626-441-2024

Description and Reviews
From
The Publisher:
Go the Distance!
Whether you're running a race or running a company, pacing is everything. Go too fast and you'll burn yourself out—too slow and you're left in the dust. So how can leaders find the right speed? Growth expert Alison Eyring, who is also a long-distance runner and triathlete, found the answer in endurance training.
It's a concept she calls Intelligent Restraint. Eyring shows leaders how to evaluate their company's and team's current capacity for growth and identify the right capabilities and pacing strategies to increase growth steadily and sustainably. She masterfully weaves physiological and psychological research, in-depth business case studies, examples from real leaders, and practical tools with her own narrative of endurance training. The result is a revolutionary new mindset for enduring success.

Reviews
"As CEO, I am constantly faced with the tension of leading a successful company to execute our core business and, at the same time, prepare ourselves for the future. Pacing for Growth gives leaders a new approach to solving this inherent paradox."
—Bruce Cleaver, CEO, De Beers Group
"I applaud Alison's call for Intelligent Restraint before we blindly dash to the next challenge. Her expert advice and counsel is second to none, and I promise your organization will achieve more in the long run if you accept her wise counsel!"
—Jim Kouzes, coauthor of the bestselling The Leadership Challenge and Dean's Executive Fellow of Leadership, Leavey School of Business, Santa Clara University
"Sustainable business success hinges on building capacity for both growth and endurance. Alison Eyring shares a unique and compelling perspective based on experience, research, and corporate case studies. A great practical guide for HR leaders!"
—Lisa Connell, Executive Director, HR People + Strategy
"Pacing for Growth takes a fresh look at growth from a personal and professional perspective, offering an innovative way to approach one of the biggest challenges in organizations, no matter their size. It's a good read not only if you are seeking success for your company but also if you are looking for a way to drive innovation and make a positive and lasting impact."
—Cesar Cernuda, President, Microsoft Latin America
"Delivering growth is a prerogative for almost every business leader. Pacing for Growth draws a compelling distinction between simply delivering growth and creating a sustainable advantage in the process of delivering growth. The book reinforces that the 'how' matters and provides simple principles that can inspire leaders to accomplish sustained growth."
—Karthik Rao, President, Nielsen
"Pacing for Growth is a great reminder that the best businesses grow value by combining continuous improvement with successful innovation. Creating the capacity for growth is a long race, and Alison Eyring gives leaders around the globe practical advice on what it takes to win."
—Mark Gainsborough, Executive Vice President, New Energies, Royal Dutch Shell
"Pacing for Growth is a compelling read drawing parallels from sports and applying them to the business world. It provides a no-nonsense approach for leaders wanting to simultaneously build capabilities and capacity for sustained healthy growth."
—Marko Ilincic, Senior Vice President and Head of Asia and Pacific, The LEGO Group
"Pacing for Growth is a provocative discussion on what really works to accelerate personal and organizational success. I see threads in what Alison describes as 'Intelligent Restraint' in agile methodologies—i.e., sprint, test, refine. Ultimately, we all need to slow down at times to go fast. I highly recommend Pacing for Growth."
—Mike Dulworth, President and CEO, Executive Networks, Inc.
"Intelligent Restraint so clearly articulates the tension between pace and endurance and demonstrates why entrepreneurial businesses must adhere to the 'less is more' principle. Authoritative and packed with compelling evidence from both academic research and practice, this book will forever change how you think about growth and the people side of business success."
—Tomas Chamorro-Premuzic, CEO, Hogan Assessment Systems, and Professor of Business Psychology, University College London and Columbia University
"Intelligent Restraint is a great concept that organizations can use to build capacity for the future with the right discipline and pace. Alison Eyring's powerful triathlon analogy makes it an easy and interesting read. Clearly, Intelligent Restraint can be applied to the challenges we face in both our business and personal lives."
—Umran Beba, Senior Vice President, Chief Human Resource Officer for Human Capital Management Services and Operations, PepsiCo
"Alison Eyring is a remarkable storyteller! Pacing for Growth drives home the importance of self-awareness, endurance, and good coaching for all business leaders, wherever they are in their growth curve."
—Vladimir Makatsaria, Company Group Chairman, Johnson & Johnson Medical Devices (Asia Pacific)

About the Author
Alison Eyring
, PhD, is the founder and CEO of Organisation Solutions. She has worked closely with senior executives in companies such as American Express, De Beers, Four Seasons, Johnson & Johnson, Microsoft, Prudential, and Shell over the past twenty-five years.