A Leadership Kick in the Ass
: How to Learn from Rough Landings, Blunders, and Missteps
Bill Treasurer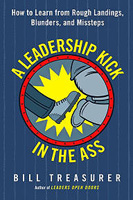 Format:
Paperback, 200pp.
ISBN:
9781626568020
Publisher:
Berrett-Koehler Publishers
Pub. Date:
January 16, 2017
Average Customer Review:

For Bulk Orders Call: 626-441-2024

Description and Reviews
From
The Publisher:
Even the best leaders—in fact, most of the best leaders—start out as decidedly bad ones. And sooner or later they reach a moment of reckoning that leadership expert Bill Treasurer calls the leadership kick in the ass. When it happens, it feels like it's all over. But Treasurer says that with the right attitude, that kick can be a new beginning. Based on his work with thousands of leaders, this book reveals how to turn those ego-bruising events into the kind of transformative experiences that mark the paths of great leaders. As Steve Jobs famously said, "Getting fired was the best thing that ever happened to me." This book is a survival guide, coach, and morale booster to help you use that kick to move forward instead of fall down. If you succeed, the next place you get kicked might be upstairs.

Reviews
"A Leadership Kick in the Ass is, at its core, about two essential human virtues—courage and humility—and a reminder that these two qualities are inextricably linked. Bill Treasurer shows us that it takes a lot of courage to open yourself up to honest feedback from others and how that openness enables you to become more grounded, more aware, more confident, and more caring. At times Bill is highly irreverent and cheeky, but he's always deeply caring and respectful of the difficult challenges leaders face. And Bill does not simply render critiques; every step of the way he offers insightful and practical advice on how you can lead with your best self. Through stories from his personal and coaching experiences, Bill reveals the transformative power of the courage to be human. This is one of the most unique and valuable books you will read all year, and I highly recommend it."
—Jim Kouzes, coauthor of the bestselling and award-winning The Leadership Challenge and Dean's Executive Fellow of Leadership, Leavey School of Business, Santa Clara University
"This book's title may have grabbed your attention, but its core topic—the human ego—is dear to my heart. Using candor and humor in equal measure, Bill Treasurer gets real about the leadership advantages of what I'll just call effective redirection. Ha! This book is not just a fun read—it's a wake-up call for leaders at every level."
—Ken Blanchard, coauthor of The New One Minute Manager® and Collaboration Begins with You
"Failure may not be fun, but as Treasurer has proven in his rich, in-the-trenches experience in business, you can learn more from one failure than from untold wins. A Leadership Kick in the Ass is exactly what you need to pick yourself up, find out what went wrong, and move on, smarter and stronger than ever!"
—Marshall Goldsmith, Thinkers50 #1 Leadership Thinker in the World
"Bill Treasurer provides proven tools and processes for managers at every phase of their career to grow and thrive in the midst of their biggest disappointments. A must-read if you're serious about improving your leadership."
—Karin Hurt, coauthor of Winning Well

About the Author
Bill Treasurer
is chief encouragement officer at Giant Leap Consulting. His clients include NASA, Accenture, Saks Fifth Avenue, UBS Bank, the US Department of Veterans Affairs, and the Pittsburgh Pirates. www.BillTreasurer.com.