The Leadership Genius of Julius Caesar
: Modern Lessons from the Man Who Built an Empire
Phillip Barlag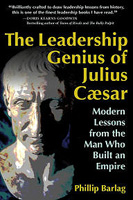 Format:
Hardcover, 144pp.
ISBN:
9781626566934
Publisher:
Berrett-Koehler Publishers
Publication Date:
October 17, 2016
Average Customer Review:

For Bulk Orders Call: 626-441-2024

Description and Reviews
From
The Publisher:
Leaders are always trying to get better, which is why there is an enormous and growing collection of literature offering the latest leadership paradigm or process. But sometimes the best way to move forward is to look back. Philip Barlag shows us that Julius Caesar is one of the most compelling leaders of the past to study—a man whose approach was surprisingly modern and extraordinarily effective.
History is littered with leaders hopelessly out of touch with their people and ruthlessly pursuing their own ambitions or hedonistic whims. But Caesar, who rose from impoverished beginnings, proved by his words and deeds that he never saw himself as being above the average Roman citizen. And he had an amazing ability to generate loyalty, to turn enemies into allies and allies into devoted followers.
Barlag uses dramatic and colorful incidents from Caesar's career—being held hostage by pirates, charging headlong alone into enemy lines, pardoning people he knew wanted him dead—to illustrate what Caesar can teach leaders today. Central to Barlag's argument is the distinction between force and power. Caesar avoided using brute force on his followers, understanding that fear never generates genuine loyalty. He exercised a power deeply rooted in his demonstrated personal integrity and his intuitive understanding of people's deepest needs and motivations. His supporters followed him because they wanted to, not because they were compelled to. Over 2,000 years after Caesar's death, this is still the kind of loyalty every leader wants to inspire. Barlag shows how anyone can learn to lead like Caesar.

Reviews
"When we look to great leaders as role models, we often don't look far enough back in the past. Julius Caesar was one of the most influential leaders in history, and Barlag shares timeless lessons that today's leaders can use to build trust and drive change."
—Adam Grant, Professor of Management, The Wharton School, and New York Times bestselling author of Originals and Give and Take
"Phillip Barlag captures in a creative way key leadership skills that transcend the passage of time. Caesar's success was not accidental—it was grounded in some firm principles."
—Paul Polman, CEO, Unilever
"The Leadership Genius of Julius Caesar is an innovative and engaging read for all leaders. While drawing on events and people from the ancient world, the lessons and storytelling are relevant and timely now. Whether political, military, or business, any leader responsible for moving an organization forward—in times of prosperity or crisis—can benefit from its insight."
—Jaap de Hoop Scheffer, 11th Secretary General, NATO
"Even as times change and technology progresses, the continual quest for enhancing our abilities remains the same. In The Leadership Genius of Julius Caesar, Phillip Barlag highlights the lessons and insights from Caesar's life and career to illuminate the qualities needed to guide any team toward greater loyalty, camaraderie, and success."
—Keith Ferrazzi, author of the #1 New York Times bestsellers Who's Got Your Back and Never Eat Alone

About the Author
Phillip Barlag
is an executive director at World 50, which initiates and facilitates the most interesting and influential business conversations in the world. He has the enormous privilege of serving remarkable leaders from some of the most well-respected companies around the globe. His work explores the authentic nature of success and struggle in leadership. His writing has been published in Fast Company, MIT Sloan Management Review, and a number of influential business blogs. He lives in the Atlanta, Georgia, area with his wife and three children.