The People Equation
: Why Innovation Is People, Not Products
Deborah Perry Piscione with David Crawley PhD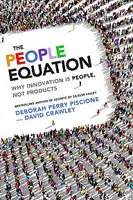 Format:
Hardcover, 192pp.
ISBN:
9781626566415
Publisher:
Berrett-Koehler Publishers
Pub. Date:
April 3, 2017
Average Customer Review:

For Bulk Orders Call: 626-441-2024

Description and Reviews
From
The Publisher:
Every business leader knows that the key to growth is innovation—if you do what you've always done, you'll get what you've always got. Deborah Perry Piscione and David Crawley argue that ultimately the key to innovation is people. After all, creativity is a uniquely human function, something that can't be automated. So how do you design an organization so that it provides the elements that will bear new thinking and bring forth bold ideas? Through
The People Equation
.
Based on examples from their consulting work and research into successful business practices, Perry Piscione and Crawley's
The People Equation
enables leaders to create a culture where psychological safety is a given, risk taking is embraced, and collaboration between highly competent people is nurtured. When experiments and new initiatives look promising, Perry Piscione and Crawley's Improvisational Innovation process provides a road map to quickly develop ideas and bring them to market. All this requires upending the usual organizational pyramid and instilling a completely new mindset throughout the organization.
Perry Piscione and Crawley show that in our rapidly changing world, the top is not where the really disruptive ideas are going to come from. And if people are afraid to take chances, even fail, you're never going to get those ideas—playing it safe means you'll be out of the game.
The People Equation
provides you with a formula for exponentially increasing out-of-the-box thinking in your organization and multiplying your chances for greater growth and success.

Reviews
"The future of work will look different and feel different than any time period prior. The People Equation provides an excellent road map on how organizations need to move now to succeed in the future."
—Vivek Wadhwa, Distinguished Fellow, Carnegie Mellon University College of Engineering; syndicated columnist, Washington Post; and author of The Driver in the Driverless Car
"The People Equation provides a framework for how companies might operate in a world where technology displaces jobs and innovation is paramount."
—Lord Wei of Shoreditch, Chair, Future Strategy Board, Ninety Consulting
"The book is great in that The People Equation is about creating a structure and culture for people to be at their best and bring forth new ideas. While Deborah Perry Piscione and David Crawley target the book to business cultures, it is a telling message for society as a whole."
—Barbara Corcoran, cohost of ABC's Shark Tank
"Deborah Perry Piscione and David Crawley masterfully and simply fuse real work and Silicon Valley–style innovation with over one hundred years of research and accepted practice in HR to suggest how to lead organizations in the new fluid economy. Exponential developments in technology require a completely different workforce and organizational structure if existing companies are to survive and thrive. Perry Piscione and Crawley provide an excellent road map for both disruptive start-ups reaching scale and existing companies looking for new business models. It is a quick yet very powerful read that I recommend for anyone interested in innovation and leadership!"
—Bonny Simi, President, JetBlue Technology Ventures
"The People Equation is a must-read for all leaders looking at their current strategy/status and wondering how they are ever going to be able to survive in the innovation economy."
—US Representative Ileana Ros-Lehtinen, Chairman Emeritus, House Foreign Affairs Committee

About the Author
Deborah Perry Piscione
is a principal at Vorto Consulting, a serial entrepreneur, and a thought leader in innovation process. She is the architect of Improvisational Innovation, a nine-month process that democratizes innovation so anyone can participate that has been adopted at many Fortune 500 companies. Additionally, she is the author of the New York Times bestselling Secrets of Silicon Valley and The Risk Factor and conducts Silicon Valley boot camps based on the teachings of her books.
David Crawley
is a principal and cofounder of Vorto Consulting. He has consulted extensively with the top management of multiple Fortune 500 companies on the topics of innovation, lean product development, and business process improvement.