Let's Stop Meeting Like This
: Tools to Save Time and Get More Done
Dick Axelrod and Emily Axelrod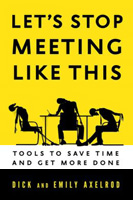 Format:
Paperback, 168pp.
ISBN:
9781626560819
Publisher:
Berrett-Koehler Publishers
Pub. Date:
August 4, 2014
Average Customer Review:

For Bulk Orders Call: 626-441-2024

Description and Reviews
From
The Publisher:
Ugh—meetings. They're where productivity goes to die, right? There has to be a better way. According to leading consultants Dick and Emily Axelrod, there is.
Using the same principles that make video games so engaging and that transformed the numbing assembly line into the dynamic shop floor, the Axelrods outline a flexible and adaptable system used to run truly productive meetings in all kinds of organizations—meetings where people create concrete plans, accomplish tasks, build connections, and move projects forward. They show how to design every aspect of a meeting—from the way you greet people at the beginning to how you sum up at the end—so that real work actually gets done. Those who have adopted this system will never go back. Neither will you.

Reviews
"By applying a fresh four-step process rooted in their benchmark research on engagement, the Axelrods offer a way to move meetings from something to be dreaded to a valuable and essential business tool."
—Tom Jasinski, Vice President of Human Resources and Global Head of Design and Change Management, MetLife, Inc.
"Most senior executives do not know how to make meetings productive. But as the world becomes more interdependent, meetings will become more frequent and a more necessary part of the work of organizations. Rather than waste time in and get mad at meetings, read this book and learn how to make them more productive."
—Edgar H. Schein, Professor Emeritus, MIT Sloan School of Management, and author of Humble Inquiry
"Dick and Emily Axelrod have done an amazing job in their new book, helping us navigate through our most precious resource—time. The time we spend in conference room meetings is increasing, and Let's Stop Meeting Like This maps out a reliable process to maximize our return on investment in meetings."
—Eric Lindblad, Vice President and General Manager, 747 Program, Boeing Commercial Airplanes
"This book will change your feelings about meetings and give them the importance they deserve. These ideas are the means to create communities of committed and powerful people."
—Peter Block, author of Stewardship and Community
"Reading this book is invaluable time well spent. It's the most practical and instantly applicable resource available for not only revolutionizing meetings but providing effective and tangible ways people can work together productively and creatively."
—Angeles Arrien, PhD, cultural anthropologist and President, Foundation for Cross-Cultural Education and Research
"Well-run meetings have a critical impact on the change process, so if you are responsible for significant transformational efforts, do yourself a favor and read Let's Stop Meeting Like This."
—Daryl Conner, Chairman, Conner Partners, and author of Managing at the Speed of Change
"With this book you can create meetings that are engaging, productive, and intentional. Whether you are an OD practitioner, leader, or frequent meeting participant, the tools and approaches shared by Dick and Emily Axelrod can be quickly put into practice to achieve dramatic results."
—Kim Gallagher Johnson, Director of Organizational Effectiveness, Allstate Insurance

About the Author
Dick and Emily Axelrod
are cofounders of the Axelrod Group Inc., a consulting firm that pioneered the use of employee involvement to effect large-scale organizational change. Their clients include Boeing, British Airways, Chicago Public Schools, Calgary Health Authority, Coca-Cola, Harley-Davidson, Hewlett-Packard, Novartis, and the UK's National Health Service.