How to Be a Positive Leader
: Small Actions, Big Impact
Jane E Dutton and Gretchen Spreitzer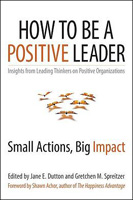 Format:
Paperback, 240pp.
ISBN:
9781626560284
Publisher:
Berrett-Koehler Publishers
Pub. Date:
June 2, 2014
Average Customer Review:

For Bulk Orders Call: 626-441-2024

Description and Reviews
From
The Publisher:
• Shows how leaders can unlock the latent power and potential in their organizations through simple actions
• Written by top thought leaders in the field of positive organizational scholarship, such as Kim Cameron, Robert Quinn, and Adam Grant
• Includes a wealth of real-world examples and evidence-based advice
Some leaders are able to dramatically expand their people's—and their own—capacity for excellence. And they accomplish this without enormous resources or huge heroic gestures. Like the butterfly in Brazil whose flapping wings create a typhoon in Texas, you can create profound positive change in your organization through simple actions and attitude shifts.
This book shares what Jane Dutton, Gretchen Spreitzer, and their fellow authors have discovered after years of studying extraordinarily effective organizations. They show that something as relatively easy as letting employees customize their jobs to fit their strengths can unlock their energy, initiative, and sense of purpose. They describe actions that build positive relationships inside and outside the organization—for example, bringing in customers and clients so your people can personally connect with them and experience the impact they're having on them firsthand.
Several chapters explore the many tangible benefits that flow from building ethical organizations that tap into people's innate goodness and sense of fairness. And the authors tackle how to deal with one of a leader's greatest challenges—leading change in ways that build hope rather than fear and make your people active contributors to the change process. Each chapter features a real-world example from both well-known organizations such as Wells Fargo, Ford, Kelly Services, and Burt's Bees to lesser-known ones such as Connecticut's Griffin Hospital and the Michigan-based Zingerman's community of businesses.
Because positive leadership is based on simple, inexpensive actions, it provides a sustainable way to consistently bring out the best in people and organizations. It offers a vision of leadership that is not about richness of resources but richness of possibilities.

About the Author
Jane E. Dutton
is the Robert L. Kahn Distinguished University Professor of Business Administration and Psychology at the Ross School of Business at the University of Michigan. She received her PhD from the Kellogg School of Management at Northwestern University. Jane's current research focuses on how the quality of connections between people at work links to individual and organizational flourishing. Her research explores compassion and organizations, the power of positive identities, as well as energy and organizations. Her previous work was on the management of strategic change. She is a cofounder of the Center for Positive Organizations.
Gretchen M. Spreitzer
is the Keith E. and Valerie J. Alessi Professor of Business Administration at the Ross School of Business at the University of Michigan. She is also the co-director of the Center for Positive Organizations. She joined the Michigan faculty in 2001 after spending nine years on the faculty of the University of Southern California Marshall School of Business. She is passionate about helping people develop as leaders.

Table of Contents
| | | |
| --- | --- | --- |
| | Foreword by Shawn Achor | |
| | Invitation by Jane E. Dutton and Gretchen M. Spreitzer | |
| | | |
| | I FOSTER POSITIVE RELATIONSHIPS | |
| 1 | Build High- Quality Connections | |
| 2 | Outsource Inspiration | |
| 3 | Negotiate Mindfully | |
| | | |
| | II UNLOCK RESOURCES FROM WITHIN | |
| 4 | Enable Thriving at Work | |
| 5 | Cultivate Positive Identities | |
| 6 | Engage in Job Crafting | |
| | | |
| | III TAP INTO THE GOOD | |
| 7 | Activate Virtuousness | |
| 8 | Lead an Ethical Organization | |
| 9 | Imbue the Organization with a Higher Purpose | |
| | | |
| | IV CREATE RESOURCEFUL CHANGE | |
| 10 | Cultivate Hope: Found, Not Lost | |
| 11 | Create Micro- moves for Organizational Change | |
| 12 | Treat Employees as Resources, Not Resisters | |
| 13 | Create Opportunity from Crisis | |
| | | |
| | Epilogue and Looking Forward | |
| | Notes | |
| | Acknowledgments | |
| | Index | |
| | About the Authors | |