The Anticipatory Organization
: Turn Disruption and Change into Opportunity and Advantage
Daniel Burrus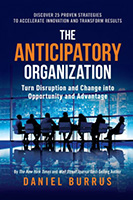 Format:
Hardcover, 192pp.
ISBN:
9781626344464
Publisher:
Greenleaf Book Group Press
Pub. Date:
October 10, 2017
Average Customer Review:

For Bulk Orders Call: 626-441-2024

Description and Reviews
From
The Publisher:
Technology-driven change is accelerating at an exponential rate, but moving fast in the wrong direction will only get you into trouble faster! Reacting to problems and digital disruptions, no matter how agile you and your organization are, is no longer good enough.
The Anticipatory Organization
teaches you how to separate the Hard Trends that will happen, from the Soft Trends that might happen, allowing you to jump ahead with low risk and the confidence certainty can provide. Accelerate innovation and actively shape the future—before someone else does it for you!
Digital transformation has divided us all into two camps: the disruptor and the disrupted.
The Anticipatory Organization
gives you the tools you need to see disruption before it happens, allowing you to turn change into advantage. In
The Anticipatory Organization
, Burrus shows us that the future is far more certain than we realize, and finding certainty in an uncertain world provides a big advantage for those who know how and where to look for it.
Inspired by the dramatic results that organizations are experiencing from his award-winning learning system,
The Anticipatory Organization
offers a comprehensive way to identify game-changing opportunities. Using the principles of this proven model, you will learn how to elevate planning, accelerate innovation, and transform results by pinpointing and acting upon enormous opportunities waiting to be discovered.
Readers will learn how to:
• Separate the Hard Trends that will happen from the Soft Trends that might happen
• Anticipate disruptions, problems, and game-changing opportunities
• Identify and pre-solve predictable problems
• Accelerate innovation (both everyday innovation and exponential innovation)
• Pinpoint and act upon enormous untapped opportunities
• Skip problems and barriers to succeed faster

Reviews
''If you're in business, and you're not thinking about disruption, you're not paying attention. And if you haven't read The Anticipatory Organization, you haven't learned how to think about—and get ahead of—the disruption that's headed your way. Read this book!''
—Alan M. Webber, Co-founder, Fast Company
''Daniel Burrus's new book, The Anticipatory Organization, provides critical insights into trends shaping the future of business. Burrus delivers a powerful vision for driving growth and innovation within a company. This is a must-read for emerging digital leaders within any industry!''
—Jude Schramm, CIO, General Electric Company, Aviation
''The Anticipatory Organization provides a compelling methodology to enable each of us to identify future trends and meaningful opportunities in a time of hyper change. Simple in its approach, yet truly transformational in its results.''
—Joel Doherty, Head of Global Strategy and Business Development, EPSON Cloud/EPSON America
''New disruptions are constantly changing industries. But with The Anticipatory Organization in hand, you now have a choice: disruptor or disrupted? That's a power advantage—and this is a must-read for every brand.''
—Andrew Vesey, Founder and co-editor, Brand Quarterly magazine
''The Anticipatory Organization is a must-read book for planning, decision-making, and growing the bottom line. Burrus has prepared a detailed flight plan to assist organizations of all sizes in gaining altitude and avoiding a lot of turbulence.''
—Howard Putnam, Former CEO, Southwest Airlines, and author of The Winds of Turbulence
''Ever since we introduced your Anticipatory Organization concepts to our leaders and managers, our ability to solve complex problems has dramatically improved. We commonly talk about Hard Trends and Soft Trends and how defining them gives our planning efforts certainty in the uncertain world of healthcare. The Anticipatory Organization is a must-read for every leader!''
—Roger Spoelman, Regional President and CEO, Trinity Health/Mercy Health
''In the 21st century, leaders can't merely react to transformational change; they need a disciplined model for anticipating and shaping the future. The Anticipatory Organization provides a compelling model that helps shift leaders' mind-sets from reactive to proactive, and empowers them to impact the future with skill and certainty.''
—Doug Conant, Former President, Nabisco Foods Company; Former President & CEO, Campbell Soup Company; Former Chairman, Avon Products; New York Times best-selling author; Founder, Conant Leadership
''There is no shortage of trends. The problem is: Which ones will happen? The Anticipatory Organization teaches you how to separate the ''Hard Trends,'' that will happen, from the ''Soft Trends,'' that might happen—giving you and your organization the confidence to make bold moves.''
—Joel Portice, CEO, Intermedix
''The Anticipatory Organization teaches you how to elevate your planning based on the Hard Trends that are shaping the future, and how to accelerate your results. It is a must read for any organization that is experiencing increased competition and an uncertain future.''
—Terry Halvorsen, Former CIO, Department of Defense, EVP, Samsung Electronics

About the Author
Daniel Burrus
is considered one of the world's leading futurists on global trends and innovation. The New York Times has referred to him as one of the top three business gurus in the highest demand as a speaker. He is a strategic advisor to executives from Fortune 500 companies, helping them to develop game-changing strategies based on his proven methodologies for capitalizing on technology innovations and their future impact. He is the author of seven books, including New York Times and Wall Street Journal bestseller Flash Foresight, as well as the highly acclaimed Technotrends.