Kaleidoscope
: Delivering Innovative Service That Sparkles
Chip R. Bell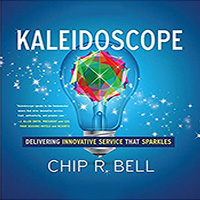 Format:
Hardcover, 120pp.
ISBN:
9781626343948
Publisher:
Greenleaf Book Group Press
Pub. Date:
February 14, 2017
Average Customer Review:

For Bulk Orders Call: 626-441-2024

Description and Reviews
From
The Publisher:
Add a Little Sparkle to Your Service
In his newest book on innovative service, bestselling author Chip R. Bell focuses on the importance of delivering the "core" of a service experience in a fashion that is value-unique, not just value-added. In his own words, "Innovative comes from your core; it evokes an experience of genuineness, a sense that its source is deep, not superficial." This wonderful book offers powerful, practical advice, along with engaging stories of ways a novel service experience can also be one that is profound.

About the Author
The author of 22 books,
Chip Bell
's newest book is "Kaleidoscope: Delivering Innovative Service That Sparkles. He is also of such bestsellers as "Sprinkles: Creating Awesome Experiences Through Innovative Service", "The 9 1/2 Principles of Innovative Service", "Take Their Breath Away" (with John Patterson), "Managers As Mentors: Building Partnerships for Learning" (with Marshall Goldsmith), "Service Magic" and "Managing Knock Your Socks Off Service" (with Ron Zemke). He has served as consultant, trainer or keynote speaker on innovative service to such major organizations as GE, Microsoft, Nationwide, Marriott, Lockheed-Martin, Cadillac, KeyBank, Ritz-Carlton Hotels, Caterpillar, Eli Lilly, Verizon Wireless, USAA, Merrill Lynch, Hertz, Accenture, Home Depot, Harley-Davidson and Victoria's Secret. He is a notes speaker on topics such as customer loyalty, brand loyalty, and creating innovative service experiences. Global Gurus ranked him in 2015 the #1 keynote speaker in the world on customer service for the second year in a row. The Chip Bell Group was in 2014 ranked #6 in North America among mid-sized consulting firms for leadership development. He was a highly decorated infantry unit commander in Vietnam with the elite 82nd Airborne and served as a guerrilla tactics instructor at the Army Infantry School. He has appeared live on CNBC, CNN, Fox Business Network, Bloomberg TV, NPR, ABC and his work has been featured in Fortune, Business Week, Forbes, Wall Street Journal, USA Today,Inc. Magazine, Entrepreneur Magazine, CEO Magazine, WSJ MarketWatch, Leader to Leader and Fast Company.