The Start-Up J Curve
: The Six Steps to Entrepreneurial Success
Howard Love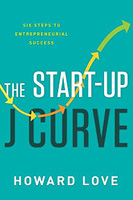 Format:
Hardcover, 272pp.
ISBN:
9781626342927
Publisher:
Greenleaf Book Group Press
Publication Date:
August 30, 2016
Average Customer Review:

For Bulk Orders Call: 626-441-2024

Description and Reviews
From
The Publisher:
A predictable pattern of success
Entrepreneurs who have read early drafts of
The Start-Up J Curve
responded, ''I wish I had this book years ago.''
A start-up unfolds in a predictable pattern; the more aware entrepreneurs are of this pattern, the better able they will be to capitalize on it. Author Howard Love calls this pattern the start-up J Curve: The toughest part of the endeavor is the time between the actual start of a new business and when the product and model are firmly established.
The Start-Up J Curve
gives entrepreneurs the tools they need to get through the early challenges so they can reach the primary value creation that lies beyond.
Love brings thirty-five years of start-up experience to this comprehensive guide to starting a business. He outlines the six predictable stages of start-up growth and details the activities that should be undertaken at each stage to ensure success and to avoid common pitfalls. Instead of feeling lost and confused after a setback, start-up founders and investors can anticipate the challenges, overcome the obstacles, and ride the curve to the top.

Reviews
"Howard's book is engaging, thought-provoking, insightful, and easy to read. Founders will relate to the tangible stories and examples. This book is fuel to accelerate up the curve to success."
—Larry Marcus, Managing Director, Walden Venture Capital, and founding investor in Pandora
''I've been lucky to collaborate with Howard as an investor, advisor and co-founder - he's made me a better entrepreneur, and by reading this book, he'll make you one too.''
—Sam Shank, CEO, Hotel Tonight
''The J Curve is a must-read for any entrepreneur, whether first-time or seasoned! Howard's genius is that he understands and empathizes with the entrepreneurial experience--and how humbling it can be--while also giving insight into and support as to why the challenges are of crucial benefit to the process of building a truly successful company. Entrepreneurs can use Howard's practical insights to better understand the realistic stages to expect in starting a company in a way that is demystifying and empowering, and quite honestly, provides an appreciated element of sanity to the often crazed entrepreneurial experience. Highly recommend!''
—Sara Sutton-Fell, CEO, Flexjobs
''Howard Love is a deeply experienced entrepreneur and early stage investor. This book is a culmination of many years of seeing successes and failures, what works and what doesn't. I highly recommend this book to entrepreneurs who want to make their own unique mistakes, rather than repeating the mistakes of others.''
—Bill Ericson, General Partner Mohr Davidow
''As I begin another ''pivot'' in my own business, I find myself wishing that Howard had written this book years ago...when I began my own entrepreneurial journey. It would have been a tremendous roadmap and guide for the many twists and turns I faced. The J Curve is a must-read for any aspiring entrepreneur, yet I am confident that start-up vets like myself will also find many new insights as well. Howard presents a fresh and spot-on approach to understanding the growth stages, and do's / don't's for each stage, of the entrepreneurial process, all based on his own vast experience starting and backing multiple companies.''
—Mark Divine, founder of SealFit, The Coronado Brewing Company, NavySEALS.com, and NYT Best Selling author of The Way of the SEAL and Unbeatable Mind
''Howard gives you an invaluable framework for understanding where you are with your startup and how to progress to success.''
—Pete Flint, Co-Founder of Trulia

About the Author
Howard Love
has been starting companies for more than thirty years, even prior to his graduation from Colgate University in 1983. He has founded or co-founded over fifteen companies and invested in over fifty early stage start-ups. He has led several of these companies himself as well as advising many others. He has served on numerous public and private company boards and is currently on the boards of directors of FlexJobs, Dealbase, HotelTonight, 10 Foot Wave, and Knowingly. Mr. Love also owns and operates LoveToKnow, a digital media publisher that he started in 2004. LoveToKnow's primary media properties are LoveToKnow.com, YourDictionary.com, and GolfLink.com. He has lived in Silicon Valley for the past twenty-five years with his wife, Harriet, and three children. For more information, visit howardlove.com.