The Sustainable Edge
: 15 Minutes a Week to a Richer Entrepreneurial Life
Ron Carson and Scott Ford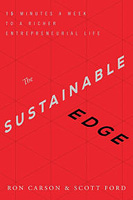 Format:
Hardcover, 240pp.
ISBN:
9781626342149
Publisher:
Greenleaf Book Group Press
Publication Date:
January 19, 2016
Average Customer Review:

For Bulk Orders Call: 626-441-2024

Description and Reviews
From
The Publisher:
The Sustainable Edge: Fifteen Minutes a Week to a Richer Entrepreneurial Life
was written for business owners who are seeking a fuller, more rewarding work-life balance. In this easy-to-reference, practical guide authors and entrepreneurs Ron Carson and Scott Ford share personal anecdotes to their own career successes. Each chapter is designed to inspire entrepreneurs to define and sustain a competitive edge in the complex, fast-changing world of business.
Relying on insights and proprietary tools based on decades of experience, the authors teach you how to achieve your goals across four key areas: your business, your teams, your clients, and your personal lives. In this book you will learn the authors' trademarked Business Implementation Quotient (IQ) Grower process that appears in the form of end-of-chapter exercises. These easy-to-perform exercises can be completed in as little as 15 minutes per week to help your company boost its own Business IQ. This work is an important read for entrepreneurs in search of achieving the sustainable edge in their careers and their lives.

Reviews
''In The Sustainable Edge, Ron Carson and Scott Ford help business owners avoid the natural but self-defeating desire to be everything to everyone. Through discovering a powerful ''why'' that guides business decisions, Ford and Carson outline a formula for both meaningful differentiation as well as self-care...I can say with confidence that reading this book when I was starting my own business would have saved me three years of floundering!''
—Dr. Daniel Crosby, CEO, Nocturne Capital
''I've worked with Ron for more than 10 years-he's a true visionary. He lives what he preaches and has set the bar for the rest of the industry as a result. His success is inspiring, and financial professionals in every stage of their career would benefit from taking his advice and reading the life lessons shared in ''The Sustainable Edge''.
—Edmond Walters Founder and CEO of Emoney Advisor, LLC.
''Ron Carson once again delivers valuable insights to his readers. However, the lessons shared in ''The Sustainable Edge'' may be the most valuable yet. Living a balanced life is simply said and difficult to achieve. Ron Caron and Scott Ford simplify this goal and provide tools you can use to lead a meaningful life.''
—Steven D. Lockshin Principal, Adviceperiod
''I have benefitted greatly from Ron's insight on advisor's practices over our 25-year history. He can do for you what he does for me--raise the bar on getting to top performance and strategy. If you are ready to move forward, I strongly recommend you to move your practice upward by reading this book.''
—Mark Cassady CEO, LPL Financial
'' 'The Sustainable Edge' details the disciplined decisions and routines Ron and Scott have implemented in building two successful wealth management firms -- a real how-to book that will give any entrepreneur some tools and a useful reminder of the fundamentals in scaling up any business. It's always powerful for business owners to read what other entrepreneurs have specifically done to be successful.''
—Verne Harnish Founder of then Entrepreneurs' Organization (EO), CEO of Gazelles, and Author of ''Scaling Up: How a Few Companies Make It...And Why The Rest Don't''
''I've always been a great believer that the route to success in an endeavor begins with the recognition of those things that cause you to lose or the ways in which you can lose and the elimination of those things. Once you have recognized and gotten rid of the reason why you can lose, now you are on the road to winning. Ron Carson's book ''The Sustainable Edge'' covers this approach completely.''
—Bobby Knight Retired NCAA Hall of Fame Coach
''I've witnessed Ron speak, and just like an athletic coach, I watched the advisors take the information and inspiration from his talk to help each one of them accelerate their ability to achieve success.''
—Joe Buck American Sportscaster

About the Authors
Ron Carson
is the founder and CEO of Carson Wealth, one of the largest wealth advisory firms in the country, serving clients through holistic financial planning, disciplined investment strategies, and proactive personal service. He is one of the most celebrated and respected financial advisors and executives in the industry and is a sought after speaker, thinker, and investment strategist. Ron has shared his success principles, as documented in his book, Tested in the Trenches, with audiences worldwide. Most recently, Ron coauthored The New York Times best-selling book Avalanche and the blueprinting process that goes with it. Together, these tools help advisors learn how to clarify their mission, vision, and values by setting business and life goals. Ron and his wife Jeanie reside in Omaha, Nebraska.
Scott Ford
, founder and CEO of Cornerstone Wealth Management Group and a Carson Institutional partner, serves on the investment committee as the technical strategist. He is a registered principal at LPL Financial and is a registered financial consultant. Scott is ranked in the top 1 percent of all LPL registered financial advisors. He was recognized as one of the 20 Rising Stars of Wealth Management by Private Asset Management Magazine. Scott is the author of two books: Financial Jiu-Jitsu: A Fighter's Guide to Conquering Your Finances and The Widow's Wealth Map: Six Steps to Beginning Again. Scott and his family reside in Hagerstown, Maryland.