Leading on Purpose
: Sage Advice and Practical Tools for Becoming the Complete Leader
Timothy I. Thomas and Rip Tilden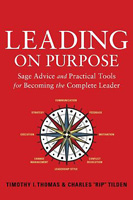 Format:
Hardcover, 192pp.
ISBN:
9781626341272
Publisher:
Greenleaf Book Group Press
Pub. Date:
October 7, 2014
Average Customer Review:

For Bulk Orders Call: 626-441-2024

Description and Reviews
From
The Publisher:
In
Leading on Purpose
, veteran leadership consultants Tim Thomas and Rip Tilden draw on their experiences with thousands of leaders to effectively make their case: great leaders are made, not born.
The authors lay out their case in a conversational tone, weaving in lessons from conversations between fictional CEO ''Frank'' and his insightful, sharp-tongued grandmother. The result is an engaging, clear, and eminently helpful guide to the eight critical skill sets you need to become a purposeful and effective leader:
1. Understanding Leadership Style
2. Strategy
3. Communication
4. Motivation
5. Feedback
6. Conflict Resolution
7. Execution
8. Change Management
No matter where you are in your career CEO, Director, Supervisor, Manager Leading on Purpose truly gives you practical, easy-to-understand tools for use in any work environment.

Reviews
''This is a great book for any leader who is committed to growing and becoming more effective every day. It is jammed with great tools and solid advice. Leading on Purpose will guide you step by step in your journey to becoming a complete leader.''
—Marshall Goldsmith, author or editor of 34 books including the global bestsellers MOJO and What Got You Here Won t Get You There
''This book shows you exactly what you need to do to become a multiplication sign in getting results through others.''
—Brian Tracy, Author of How The Best Leaders Lead
''What a practical, useful book -- it is filled with great advice and practical tools for leaders at all levels who want to lead more effectively.'
—Gino Wickman, Author of Traction and the creator of EOS
''Find out what you need to know and what you need to do in order to be a better leader by design, not by accident. Keep this book within arms' reach at all times, refer to it often and you will perform at your best on a daily basis, with purpose.''
—Mark LeBlanc President, Small Business Success and Author of Growing Your Business and Never Be the Same
''Leading on Purpose guides those seeking to elevate their leadership skills through an engaging and actionable journey. From introspection to execution, Tim and Rip have captured the essential steps in the development and evolution of a complete leader.''
—Stephen Wray, CEO, Cadient Group and EY Entrepreneur of the Year Award recipient
''Tim and Rip have written THE handbook for senior executive success. If you are a CEO, want to become a CEO, or simply want to master the habits of highly effective corporate and entrepreneurial leaders, Leading on Purpose is for you. The best thing about this book is that it is highly focused, concise, and powerful. Rip and Tim don't waste a single word on fluff or theory. This book is all meat - and all highly relevant to today's business environment. If you are ready to take your leadership to new heights of personal, financial and organizational success, Leading on Purpose is a must-read.''
—David Newman, author of ''Do It! Marketing''
''Leading on Purpose is a practical guide for leaders at all levels to help them begin a purposeful journey to leadership excellence. Tim and Rip have put together a great toolbox to help any leader improve.''
—Rob Rebak, CEO, QualityHealth

About the Authors
Tim Thomas
established Makarios Consulting in 2003. Since 1998, he has transformed organizations working as a leadership development trainer, executive coach, and change management expert. His clients include Merck & Co., Melillo Consulting, Catalent Pharma Solutions, Rohm and Haas Company, Lincoln Electric Company, and many more.
Rip Tilden
joined Makarios Consulting as a partner in 2009, bringing with him more than 32 years of leadership experience as a senior executive in a wide range of public and private companies. He is a member of the faculty at The Wharton School of the University of Pennsylvania, where he works with MBA students on international strategy and marketing projects.