Strategy That Works
: How Winning Companies Close the Strategy-to-Execution Gap
Paul Leinwand and Cesare R. Mainardi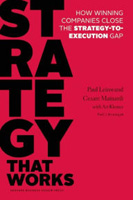 Format:
Hardcover, 288pp.
ISBN:
9781625275202
Publisher:
Harvard Business Review Press
Publication Date:
February 2, 2016
Average Customer Review:

For Bulk Orders Call: 626-441-2024

Description and Reviews
From
The Publisher:
How to close the gap between strategy and execution
Two-thirds of executives say their organizations don't have the capabilities to support their strategy. In Strategy That Works, Paul Leinwand and Cesare Mainardi explain why. They identify conventional business practices that unintentionally create a gap between strategy and execution. And they show how some of the best companies in the world consistently leap ahead of their competitors. Based on new research, the authors reveal five practices for connecting strategy and execution used by highly successful enterprises such as IKEA, Natura, Danaher, Haier, and Lego. These companies:
• Commit to what they do best instead of chasing multiple opportunities
• Build their own unique winning capabilities instead of copying others
• Put their culture to work instead of struggling to change it
• Invest where it matters instead of going lean across the board
• Shape the future instead of reacting to it
Packed with tools you can use for building these five practices into your organization and supported by in-depth profiles of companies that are known for making their strategy work, this is your guide for reconnecting strategy to execution.

Reviews
"Strategy That Works provides a behind-the-scenes look at the characteristics of unconventional leadership and the importance of culture and identity as foundational components of a strong corporate strategy."
—Mark T. Bertolini, Chairman and CEO, Aetna
"Any successful large enterprise must strike the right balance between openness to change and having a powerful, long-lasting core identity. Strategy That Works shows how to bring these two contrasting ideas together."
—Zhang Ruimin, Chairman and CEO, Haier Group
"Leinwand and Mainardi show you how to transform your value proposition into real results."
—Marshall Goldsmith, author, New York Times #1 bestselling Triggers and global bestsellers MOJO and What Got You Here Won't Get You There
"Strategy is all about making clear plans and sticking to them. Yet organizations get easily distracted. This great new book explains how to gain coherence across an organization in strategy setting and execution."
—Sally Blount, Dean, Kellogg School of Management, Northwestern University
"This book will help you think about whether your organization is really aligned with your strategy: from the company's value proposition to its distinctive capabilities to the products and services it provides."
—Alessandro Carlucci, former CEO, Natura
"Strategy That Works demonstrates how capabilities shape successful markets, enable winning companies, and sustain on-target execution. The case for capabilities-driven strategy strengthens with every turn of the page."
—Karim Michel Sabbagh, President and CEO, SES

About the Authors
Paul Leinwand
is Global Managing Director, Capabilities-Driven Strategy and Growth, with Strategy&, PwC's strategy consulting business. Cesare Mainardi is the former CEO of Booz & Company and Strategy&. They are the principal architects of capabilities-driven strategy and the authors of The Essential Advantage and Cut Costs and Grow Stronger. Both are adjunct professors of strategy at Northwestern University's Kellogg School of Management.
Art Kleiner
is editor-in-chief of strategy+business, the management magazine published by PwC.