No One Understands You and What to Do About It
Heidi Grant Halvorson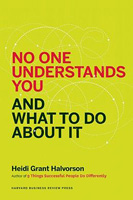 Format:
Paperback, 224pp.
ISBN:
9781625274120
Publisher:
Harvard Business Review Press
Pub. Date:
April 14, 2015
Average Customer Review:

For Bulk Orders Call: 626-441-2024

Description and Reviews
From
The Publisher:
Have you ever felt you're not getting through to the person you're talking to, or not coming across the way you intend? You're not alone.
That's the bad news. But there is something we can do about it. Heidi Grant Halvorson, social psychologist and bestselling author, explains why we're often misunderstood and how we can fix that.
Most of us assume that other people see us as we see ourselves, and that they see us as we truly are. But neither is true. Our everyday interactions are colored by subtle biases that distort how others see us—and also shape our perceptions of them.
You can learn to clarify the message you're sending once you understand the lenses that shape perception:
Trust
. Are you friend or foe?
Power
. How much influence do you have over me?
Ego
. Do you make me feel insecure?
Based on decades of research in psychology and social science, Halvorson explains how these lenses affect our interactions—and how to manage them.
Once you understand the science of perception, you'll communicate more clearly, send the messages you intend to send, and improve your personal relationships. You'll also become a fairer and more accurate judge of others. Halvorson even offers an evidence-based action plan for repairing a damaged reputation.
This book is not about making a good impression, although it will certainly help you do that. It's about coming across as you intend. It's about the authenticity we all strive for.

Reviews
"Think you know how you come across? Think again. Using a brilliant combination of stories and science, Heidi Grant Halvorson reveals the gulf between how others perceive us and how we perceive ourselves. But instead of leaving us to lament, she shows us how to contend with this sometimes harsh reality. This is a smart, fascinating, and eminently practical book."
—Daniel H. Pink, author, To Sell Is Human and Drive: The Surprising Truth About What Motivates Us
"This is a great book. It's important, it's riveting, and it's extremely useful. In fact, it's essential for anyone who wants to thrive in their social or business world."
—Carol S. Dweck, Lewis and Virginia Eaton Professor of Psychology, Stanford University
"Despite your best intentions, your perceptions of people are a mirage, contaminated by your past experiences, needs, and desires. This book will help you see yourself and others accurately—perhaps for the first time."
—Scott Barry Kaufman, Scientific Director, Imagination Institute, Positive Psychology Center, University of Pennsylvania
"Heidi Grant Halvorson explores the fascinating research on personal perception. Not only will this book help you to present yourself more effectively, it will also allow you to see the people around you more accurately."
—Art Markman, Annabel Iron Worsham Centennial Professor of Psychology, University of Texas at Austin; author, Smart Thinking and Smart Change
"There are so many good reasons to read this book. It's smart. It's insightful. It's helpful. But the best reason might just be that it's fun. Heidi Grant Halvorson is a great writer—wise, knowledgeable, and charming at the same time. I found myself laughing while I was learning."
—Peter Bregman, CEO, Bregman Partners; author, 18 Minutes: Find Your Focus, Master Distraction, and Get the Right Things Done
"There is deep power in knowing how to have people see you as only you are."
—Nilofer Merchant, author, 11 Rules for Creating Value in the Social Era
"Being an authentic leader means being perceived authentically. Halvorson masterfully combines research and story to outline why we're misunderstood and how to be seen for who we really are."
—David Burkus, author, The Myths of Creativity
"This is a code book for deciphering one of the great riddles of life: why don't others see us as we see ourselves? With fascinating facts and memorable examples, renowned psychologist Heidi Grant Halvorson shows us the path to making a better impression on others while maintaining a sense of integrity."
—Adam Grant, Class of 1965 Chaired Professor of Management, Wharton School, University of Pennsylvania; New York Times bestselling author, Give and Take
"The best book ever written on why it is so difficult for us humans to communicate with others and what we can do about it. I was blown away by the masterful weave of stories, rock-solid evidence, and, especially, advice that I can use right now to get my message across without confusing or pissing off the other people in my life."
—Robert I. Sutton, Professor of Management Science and Engineering, Stanford University; author, The No Asshole Rule

About the Author
Heidi Grant Halvorson, PhD
, is a social psychologist and Associate Director of the Motivation Science Center at Columbia Business School. She is the author of four bestselling books, including Nine Things Successful People Do Differently, as well as a regular contributor to leading publications, including Harvard Business Review, Fast Company, WSJ.com, and Psychology Today.