It's Not the How or the What but the Who
: Succeed by Surrounding Yourself with the Best
Claudio Fernández-Aráoz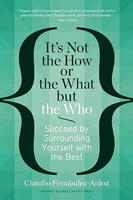 Format:
Hardcover, 256pp.
ISBN:
9781625271525
Publisher:
Harvard Business Review Press
Pub. Date:
June 3, 2014
Average Customer Review:

For Bulk Orders Call: 626-441-2024

Description and Reviews
From
The Publisher:
Succeed by mastering the art of the who
Why surround yourself with the best? Because it matters—in all aspects of life.
In fact, in professional environments, getting people right—what global leadership authority Claudio Fernández-Aráoz calls "the art of great 'who' decisions"—marks the difference between success and failure. To thrive, you need to identify those with the highest potential, get them in your corner and on your team, and help them grow. Yet surprisingly very few of us are able to meet that challenge.
This series of short and engaging essays outlines the obstacles to great "who" decisions and offers solutions to address them in a systematic way. Drawing from several decades of experience in global executive search and talent development, as well as the latest management and psychology research, Fernández-Aráoz offers wisdom and practical advice to improve the choices we make about employees and mentors, business partners and friends, top corporate leaders and even elected officials.
The personal stories and cutting-edge studies described in the book will help you understand both your own failings and the external forces commonly at play in staffing decisions. The author shares concrete recommendations on how to select the best people, bring out their strengths, foster collective greatness in the groups you've assembled, and create not only better organizations but also a better society.
Starting with the cases of Amazon pioneer Jeff Bezos and Brazilian tycoon Roger Agnelli and continuing with individual and corporate examples from around the world, Fernández-Aráoz paints a vivid picture of what great "who" decisions look like and presents a fresh and commanding argument about why they matter more than ever today.

Reviews
"Claudio Fernández-Aráoz has vast experience, deep knowledge, and profound wisdom on perhaps the most vital question facing any enterprise: how to get the right people on the bus and into the key seats. Anyone who strives to lead from good to great would do well to grow by delving into Claudio's work, for he is a true master."
—Jim Collins, bestselling author, Good to Great
"A brilliant perspective into 'the fourth era of people decisions' for all companies striving to keep pace with this rapidly changing, increasingly complex world. Finally, a focus on hiring for insatiable curiosity and the insight to see connections, all to achieve collective greatness. Thank you, Claudio, for enlightening the business world about how great companies are built and transformed, and how they remain at the forefront of society."
—Angela Ahrendts, former CEO, Burberry; Senior Vice President, Apple Retail
"People decisions are some of the most difficult, yet most consequential choices managers make. It's Not the How or the What but the Who has engaging, practical, and evidence-based wisdom that will help anyone with this essential task. Claudio Fernández-Aráoz offers up a rich collection of his penetrating insights; I can think of no one more qualified to advise us. This is a truly outstanding guidebook, offering every manager sound direction on what to do Monday morning."
—Daniel Goleman, bestselling author, Emotional Intelligence
"There is an old Asian adage about '(great) people being everything.' Fernández-Aráoz's book is elegantly written with penetrating analysis and meticulous detail. A significant book on how to execute on great people decisions—extremely relevant for thoughtful executives and CEOs."
—Jong-Yong Yun, former CEO, Samsung Electronics
"In this extraordinary book Fernández-Aráoz expertly marshals his vast experience, palpable passion, and a wealth of important research to explain what's really required to get and groom the best talent. Whether hiring a new team member, composing a board, or even selecting the next Pope, anyone whose success depends on making better people choices (and that's all of us!) must read this book."
—Herminia Ibarra, The Cora Chaired Professor of Leadership and Learning, INSEAD

About the Author
Claudio Fernández-Aráoz
is a senior adviser at leading executive search firm Egon Zehnder and a former member of its global executive committee. He holds an MBA from Stanford and has previously worked for McKinsey & Company. He is a global expert on hiring and promotion decisions and leadership development, and a frequent speaker at major business gatherings. His advice has been sought by the CEOs of several of the world's largest companies and many governments. Fernández-Aráoz is a regular lecturer at Harvard Business School, a frequent contributor to HBR.org, and the author of Great People Decisions: Why They Matter So Much, Why They Are So Hard, and How You Can Master Them (2007).