Peak Performance
: Elevate Your Game, Avoid Burnout, and Thrive with the New Science of Success
Brad Stulberg and Steve Magness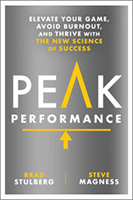 Format:
Hardcover, 240pp.
ISBN:
9781623367930
Publisher:
Rodale Books
Pub. Date:
June 6, 2017
Average Customer Review:

For Bulk Orders Call: 626-441-2024

Description and Reviews
From
The Publisher:
What Makes Great?
A few common principles drive performance, regardless of the field or the task at hand. Whether someone is trying to qualify for the Olympics, break ground in mathematical theory, or craft an artistic masterpiece, many of the practices that lead to great success are the same. In
Peak Performance
, Brad Stulberg, a former McKinsey and Company consultant and journalist who covers health and the science of human performance, and Steve Magness, a performance scientist and coach of world-class athletes, team up to demystify these practices and demonstrate how everyone can achieve their best.
The first book of its kind,
Peak Performance
combines the inspiring stories of top performers across a range of capabilities—from athletic to intellectual to artistic—with the latest scientific insights into the cognitive and neurochemical factors that drive performance in all domains. In doing so,
Peak Performance
uncovers new links that hold promise as performance enhancers but that have been overlooked in our traditional ways of thinking. The result is a life-changing book in which you will learn how to enhance your performance by optimally alternating between periods of intense work and rest; priming your body and mind for enhanced productivity; and developing and harnessing the power of a self-transcending purpose.
In revealing the science of great performance and the stories of great performers across a wide range of capabilities,
Peak Performance
uncovers the secrets of success, and coaches you on how to use them. If you want to take your game to the next level, whatever "your game" might be, Peak Performance will teach you how.

Reviews
"This is a transfixing book on how to sustain peak performance and avoid burnout. Stulberg and Magness have worked with (and been) elite achievers, and they combine that rich experience with the science of success to share actionable insights."
—Adam Grant, New York Times bestselling author of Originals and Give and Take
"Brad Stulberg and Steve Magness are one-percenters when it comes to skill in translating high performance science for the public. I doubt anyone can read Peak Performance without itching to apply something to their own lives."
—David Epstein, NewYork Times bestselling author of The Sports Gene
"What do top performers actually do to make themselves great? Brad Stulberg and Steve Magness are here with some powerful answers. From rethinking stress to transcending your 'self,' the ideas in Peak Performance will help you become better than you ever imagined."
—Daniel H. Pink, New York Times bestselling author of Drive
"Brad Stulberg is my favorite health and science writer and Steve Magness is a deeply thoughtful coach of champions. They are the perfect team to show us, through principles that are applicable to just about anyone and anything, how we can get the most out of ourselves and do so in a healthy and sustainable manner."
—Amy Cuddy, New York Times bestselling author of Presence
"So much in this book resonates with me. With practical advice for performance in the workplace or on the playing field, Brad and Steve meticulously deliver a comprehensive understanding of peak performance and howto achieve it."
—Dick Costolo, CEO of Chorus, formerly CEO of Twitter
"Tackling the mysteries of human optimization with science and insight from some of the world's greatest athletes, artists and intellectuals, Peak Performance provides the roadmap you need to transcend your limitations, unleash your inner greatness and, most importantly, sustain it over time. An absolute must read for anyone interested in unlocking potential to become your best self!"
—Rich Roll, author of Finding Ultra and The Plantpower Way
"Brad Stulberg is one of the most gifted science writers of our times, a master at translating fascinating findings into concrete strategies. Peak Performance provides actionable insights from the cutting-edge research on how people excel. This book will be a must-read for anyone who wants to up their game, transcend their boundaries, and get out of their comfort zone."
—Kelly McGonigal, Stanford psychology instructor and author of The Willpower Instinct and The Upside of Stress
"What do great artists, champion athletes, and brilliant researchers have in common? More than you'd expect, as Brad Stulberg and Steve Magness reveal in this magnificent silo-breaking synthesis of the hidden patterns that enable great performance across disciplines."
—Alex Hutchinson, Runner's World "Sweat Science" columnist and author of What Comes First: Cardio or Weights?
"Peak Performance is a must read foranyone hoping to grow and achieve success in any area of their life. Relatable and readable, it identifies the skills and disciplines successful people have in common and teaches us what we can do to achieve the success that we want. I am excited to put what I have learned to use in my running and beyond."
—Kara Goucher, Two-Time Olympic Marathoner
"Full of inspiration and information, Peak Performance is a must-read for anyone dedicated to self-optimization. I will be reading and re-reading this book for years to come."
—Matt Billingslea, Drummer, Taylor Swift Band
"Brad and Steve uncover secrets of the world's best performers to help us all become more effective in our own pursuits. Peak Performance is a must read for everyone: from athletes to artists, and certainly entrepreneurs. Basically, this book is for anyone looking to take their skills to the next level."
—Dr. Bob Kocher, Partner at Venrock Capital, Consulting Professor at Stanford School of Medicine, Formerly Special Assistant to the President of the United States on Health Care
"We all wonder why some people become great successes and others do not. It seems a mystery. However, Peak Performance presents the science that illuminates the common practices of game changers, and most important, shows u show we can benefit from applying them in our own lives."
—David Goss, Professor Emeritus of Mathematics at The Ohio State University
"As I read Peak Performance I found myself amazed that there is actually science to back up what I have found true as a sought to maximize my abilities throughout my professional running career. The reader is sure to be perplexed by their surprising findings and empowered to make some changes to their competitive mentality so they can achieve their own peak performance."
—Ryan Hall, United States Half-Marathon Record Holder
"Peak Performance deeply explores the cycle of intense creativity that remains a mysterious realm even to me?despite my best efforts to mine it for all it's worth. I think it's clear that Stulberg and Magness are really onto something here."
—Emil Alzamora, internationally-acclaimed sculptor

About the Authors
Brad Stulberg
writes about health and the science of human performance. He is a columnist with Outside Magazine and New York Magazine and has also written for Forbes, NPR, The Los Angeles Times, Runner's World, and The Huffington Post. Brad is widely known for his ability to merge the latest science with compelling personal stories, offering readers practical insights that they can apply in their own lives. Previously, Brad worked as a consultant for McKinsey and Company, where he counseled some of the world's top executives on a broad range of issues. He is an avid athlete and outdoor enthusiast. Brad lives in Northern California with his wife, Caitlin, and their two cats.
Steve Magness
is a coach to some of the top distance runners in the world, having coached numerous athletes to top 15 at the World Championships and Olympic Games. He currently coaches at the University of Houston. Known widely for his integration of science and practice, Magness has been on the forefront of innovation in sport. He serves as an adjunct professor of Strength and Conditioning at St. Mary's University and has been a featured expert in Runner's World, The New York Times, The New Yorker, The BBC, The Wall Street Journal, and ESPN The Magazine. In addition, his first book, The Science of Running, was published in 2014. In his own running, Magness ran a 4:01 mile in High School. He lives in Houston, TX.