Margaret Thatcher on Leadership
: Lessons for American Conservatives Today
Nile Gardiner and Stephen Thompson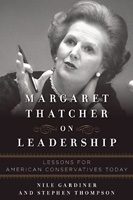 Format:
Hardcover, 256pp.
ISBN:
9781621571643
Publisher:
Regnery Publishing
Pub. Date:
October 1, 2013
Average Customer Review:

For Bulk Orders Call: 626-441-2024

Description and Reviews
From
The Publisher:
This inspirational and practical guide for conservatives combines stories from Lady Thatcher's life with principles and strategies conservatives can apply to their challenges today. Nile Gardiner and Stephen Thompson outline the critical lessons conservatives can learn from Lady Thatcher on articulating conservative principles to a broader audience, cutting through bureaucratic messes to achieve goals, and standing up to aggressive regimes.

Reviews
"Based on the authors' unique vantage point, Margaret Thatcher on Leadership provides a fascinating account of how this outstanding prime minister demonstrated that conservative ideas work. The book, which describes how she and Ronald Reagan worked together to change the course of history, offers a valuable example for future leaders of both Britain and the United States."
—Hon. Edwin Meese III, former attorney general of the United States
"Do not despair. There is no irreversible 'tipping point' into American decline, not even Obama's presidency. Margaret Thatcher on Leadership distills the critical lessons from Lady Thatcher's inspiring political accomplishments and applies them persuasively to America today."
—Hon. John R. Bolton, former U.S. Permanent representative to the United Nations
"Margaret Thatcher loved America and always kept our best interests in mind. That's why the lessons of her strong, decisive leadership are so critical in restoring conservative government here after an era of hyper-liberalism."
—Fred Barnes, executive editor, Weekly Standard
"Margaret Thatcher on Leadership is a powerful and timely book calling on American conservatives to defend the cause of freedom. The Iron Lady's example is an inspiration to us all, on both sides of the Atlantic, as the West faces mounting challenges at home and abroad."
—Rt. Hon. Liam Fox, MP, former defence secretary of the United Kingdom

About the Authors
Nile Gardiner
is the Director of the Margaret Thatcher Center for Freedom at The Heritage Foundation. Before joining Heritage, he was Foreign Policy Researcher for former Prime Minister Lady Margaret Thatcher. He is recognized internationally as an expert on foreign relations, especially the "Special Relationship" between the United States and Great Britain. He attended Yale University.
Stephen Thompson
is a former Congressional aide with extensive government experience. Educated at Cambridge University, the London School of Economics, and the University of California, Dr. Thompson lived in Cambridge and London during most of Thatcher's time as prime minister, and experienced firsthand how she changed British history, becoming a lifelong Thatcherite.