The Know-It-Alls
: The Rise of Silicon Valley as a Political Powerhouse and Social Wrecking Ball
Noam Cohen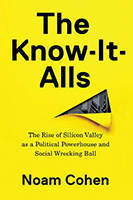 Format:
Hardcover, 224pp.
ISBN:
9781620972106
Publisher:
The New Press
Pub. Date:
November 7, 2017
Average Customer Review:

For Bulk Orders Call: 626-441-2024

Description and Reviews
From
The Publisher:
In
The Know-It-Alls
former
New York Times
technology columnist Noam Cohen chronicles the rise of Silicon Valley as a political and intellectual force in American life. Beginning nearly a century ago and showcasing the role of Stanford University as the incubator of this new class of super geeks, Cohen shows how smart guys like Jeff Bezos, Peter Thiel, Sergey Brin, Larry Page, and Mark Zuckerberg fell in love with a radically individualistic ideal and then mainstreamed it. With these very rich men leading the way, unions, libraries, public schools, common courtesy, and even government itself have been pushed aside to make way for supposedly efficient market-based encounters via the Internet.
Donald Trump's election victory was an inadvertent triumph of the "disruption" that Silicon Valley has been pushing: Facebook and Twitter, eager to entertain their users, turned a blind eye to the fake news and the hateful ideas proliferating there. The Rust Belt states that shifted to Trump are the ones being left behind by a "meritocratic" Silicon Valley ideology that promotes an economy where, in the words of LinkedIn founder Reid Hoffman, each of us is our own start-up. A society that belittles civility, empathy, and collaboration can easily be led astray.
The Know-It-Alls
explains how these self-proclaimed geniuses failed this most important test of democracy.

Reviews
"The Know-It-Alls examines highly influential figures such as the often-neglected computer pioneers John McCarthy and Frederick Terman, who helped to transform Stanford, California, and its valley into a digital powerhouse ? McCarthy as the father of artificial intelligence, Terman as a catalyst for local entrepreneurialism. These finely researched portraits are a joy."
—Nature Magazine
"[Cohen] shows how the cult of personality for tech entrepreneurs developed out of a 'combination of a hacker's arrogance and an entrepreneur's greed' and . . . helps chip away at the power these men (another crucial quality) have carved out for themselves. . . . An enlightening breakdown of how Silicon Valley billionaires have shifted popular discourse in their favor."
—Kirkus Reviews
"Individualism is a big part of what makes America great—until it becomes a euphemism for selfishness and arrogance among lucky winners who prefer to believe that luck and other people had nothing to do with their success. The Know-It-Alls is a terrific case study of some of the unreckoned costs of the digital revolution, and how one piece of the American idea threatens to overwhelm the others."
—Kurt Andersen, author of Fantasyland: How America Went Haywire and host of NPR's Studio 360

About the Author
Noam Cohen
covered the influence of the Internet on the larger culture for the New York Times, where he wrote the Link by Link column, beginning in 2007. He lives in Brooklyn with his family. This is his first book.