Amplified Leadership
: 5 Practices to Establish Influence, Build People, and Impact Others for a Lifetime
Dan Reiland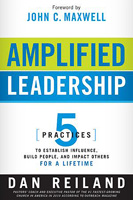 Format:
Paperback, 240pp.
ISBN:
9781616384722
Publisher:
Charisma House
Pub. Date:
January 3, 2012
Average Customer Review:

For Bulk Orders Call: 626-441-2024

Description and Reviews
From
The Publisher:
The leaders you develop today will determine your ministry's future.
If you want your ministry to reach its maximum potential, all that God wants for you, it is essential that you develop strong leaders. In
Amplified Leadership
, "pastor's coach" Dan Reiland gives you a proven process for developing new leaders that are established spiritually and trained practically.
Not just a checklist of things you should do,
Amplified Leadership
provides an intentional development process that starts with your relationships and ends with empowered leaders who are ready to make an impact. With personal examples and proven advice, Reiland gives you the tools you need to:
Establish relationships
Engage followers
Embrace and equip team members
Coach your apprentices
Mentor new leaders
The ability to develop leaders is a life-changing gift. When you successfully empower and release people to leadership, you give them the opportunity to fulfill their potential and advance the mission of the church.

Reviews
Dan Reiland is known for coaching church leaders and has captured the process he uses to develop local church leaders in this book. I highly recommend Amplified Leadership. I'm confident it will help you and your church go to the next level!
—Craig Groeschel Pastor of LifeChurch.tv and Author of Weird: Because Normal Isn't Working Edmond, OK
Reaching more people for Jesus depends on your ability to develop new leaders. Amplified Leadership will help you do that. Dan Reiland loves the local church and is a true field-level practitioner. He leads leaders. Dan's book will give you a five-part and relationally based process to raise up new leaders. I highly recommend his book to you.
—Perry Noble Senior Pastor of NewSpring Church Anderson, SC
Dan Reiland is one of the best I have ever seen in helping church leaders reach their highest potential. Prediction: this work will become a textbook on practical leadership for tons of leaders.
—Shawn Lovejoy Co-founder of Churchplanters.com Lead Pastor of Mountain Lake Church Cumming, GA
As a leader who volunteers in my church and serves as a board member, I am very aware of the great need to find and develop leaders in a church. Dan's book will help you do just that!
—Bob Taylor President and Co-Founder of Taylor Guitars
Dan Reiland is a leader of leaders. He has personally demonstrated how to cultivate leaders who encourage, challenge, and strengthen one another. Amplified Leadership is a practical, specific, and powerful guide for those who aren't content to settle for short-term impact and who desire to create a clear path for next-generation leaders.
—Reggie Joiner CEO of The reThink Group and Founder of the Orange Conferences
No one argues against the need for new and competent leaders. But if that's the case, why do churches struggle in this area? My friend Dan Reiland has put his finger on the issue in Amplified Leadership. Dan helps us understand the cyclical nature of processing relationships in a systematic and sequential manner to produce a harvest of leaders in any church. No manipulation, programs, or laborious efforts—just a way of life. Reading this book connects the dots and highlights the various landmarks in the journey toward being an effective leader by pointing the reader in the right direction and giving them fuel (motivation) to achieve the desired outcome.
—Samuel R. Chand Author of Cracking Your Church's Culture Code
The most important metric of a healthy church is the number of leaders being developed. Do this well and everything else will take care of itself. Amplified Leadership is more than a book; it is a comprehensive and practical leadership-development toolkit. Applying these proven principles may be the most important step you take to open the leadership pipeline in your ministry.
—Steve Moore president and CEO of The Mission Exchange Author of Who Is My Neighbor? Being a Good Samaritan in a Connected World
I've known Dan Reiland for a long time because I pastor the church where Dan was executive pastor for many years. His thumbprint is still on Skyline Church. In all candor, he is one of the most skilled church leaders I have ever seen. Dan has developed hundreds of effective church leaders, and now you can use the process that has worked so well at a grassroots level in the local church. He's a trusted spiritual leader who loves the church and developing leaders. Amplified Leadership is a gift to you and your church.
—Dr. Jim Garlow Senior Pastor of Skyline Wesleyan Church San Diego, CA
Dan Reiland knows leadership, and this remarkable book proves it. If you're looking for practical and proven ways to improve your effectiveness as a leader, buy this book. Read it. And put it to work. You'll see measurable payoffs, and so will the people around you—sooner than you think. I can't recommend Amplified Leadership more strongly!
—Les Parrott, Ph.D. Founder of RealRelationships.com Author of Love Talk
When I think about developing leaders in a local church I think Dan Reiland! He's done it. His track record for leadership development in growing churches is outstanding. Now you can take advantage of Dan's leadership expertise through his book Amplified Leadership. It teaches that developing leaders is a process that starts with establishing a good relationship and moves to empowerment! Take it from me, this book is a must if you want to develop leaders!
—Dr. Stan Toler Best-selling author and General Superintendent of the Church of the Nazarene
Amplified Leadership is long overdue. It is a manual any pastor can use to develop a culture of leaders in the church. As a guy who has committed his career to nurturing emerging leaders, I love how Dan has simplified the actions to transferable concepts. Further, it's not just theory. I've watched Dan Reiland practice these truths intentionally for decades. Thanks for putting your lifestyle into words, Dan.
—Dr. Tim Elmore President of GrowingLeaders.com
This is the book for the church in this century! If you follow the pattern outlined in this book, you will see Spirit-led leaders developed exponentially in your church. Community to global transformation will result.
—Jo Anne Lyon General Superintendent of The Wesleyan Church Founder/Chair of World Hope International
Leadership is about more than inspiration. It takes the perspiration of investing your life into someone else. My longtime friend Dan Reiland has done this over and over, and Amplified Leadership shows us the way.
—Dave Travis Managing Director of Leadership Network

About the Author
Dan Reiland
serves as executive pastor at 12Stone Church in Lawrenceville, Georgia, listed in Outreach Magazine as the #1 fastest growing church in America in 2010. He previously partnered with John Maxwell for 20 years, first as executive pastor at Skyline Wesleyan Church in San Diego, then as vice president of Leadership and Church Development at INJOY. His passion is developing leaders for the local church so that the Great Commission is advanced. As a communicator, Dan has a down-to-earth style that combines humor and strategic thinking. Each year he "coaches" many pastors and speaks to several thousand people, impacting lives and strengthening the local church. His semi-monthly e-newsletter, "The Pastor's Coach," is distributed to over 60,000 subscribers, www.injoy.com.