Presidential Leadership
: 15 Decisions That Changed the Nation
Nick Ragone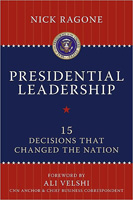 Format:
Hardcover, 280pp.
ISBN:
9781616142377
Publisher:
Prometheus Books
Pub. Date:
February 21, 2011
Average Customer Review:

For Bulk Orders Call: 626-441-2024

Description and Reviews
From
The Publisher:
Why did George Washington personally lead the militia that put down the Whiskey Rebellion? What drove Harry Truman to fire Douglas MacArthur at the height of the Korean War? Did Gerald Ford know that his pardon of Richard Nixon could very well end his political career? Why did John F. Kennedy challenge America to reach for the moon?
Author Nick Ragone examines more than a dozen major decisions of the presidency?Truman dropping the Bomb; Nixon going to China; Jefferson purchasing the Louisiana Territory?and the stories behind them. Told in a crisp, narrative writing style, Ragone brings the presidency and its big decisions to life with his unique storytelling and pacing, and highlights the lessons to be learned.
Some of the decisions are well known; others are not. But they're all told in a way that will keep you turning the pages to learn more. Each chapter stands as a study in leadership and decision-making. By the end of the book, you'll be an expert in the men and the decisions that shaped the country, and the lessons that can be learned from their leadership and often their courage.
With a prologue that assesses President Obama's first year in office and reviews his major decisions, this lively, illuminating book will appeal to history buffs, devotees of politics, students, and anyone interested in decision-making at the highest and most influential level.

Reviews
"Nick Ragone brings an historian's research skills and a storyteller's enthusiasm to this fine book on presidential leadership. His look at fifteen key decisions is never less than thought provoking. This is a book that transcends its genre and is appealing to readers interested in history, leadership, and power but also to anyone who wants to have some intriguing stories to tell at their next party."
—Paul Sullivan, author of Clutch: Why Some People Excel Under Pressure and Others Don't.
"This book is going to generate a lot of conversation and debate—that's a given. But more important, it provides new insights into the 'how and why' of these momentous decisions, and it should be considered must-reading for anyone interested in the study of leadership."
—Alan Miller, author and CEO of Universal Health Services
"What a delight! I expected to learn a few things about Woodrow Wilson, and I did. What a surprise, however, to gain new respect for George Washington's restraint as he brought the military to bear on his fellow Americans, to newly appreciate Abraham Lincoln's intellect as he sought, and found, a constitutional reason for the Emancipation Proclamation, and to be newly astonished by Ronald Reagan who, as scholar Michael Novak suggested, knew something the rest of us didn't. We think we know these men, but in Nick's book you will learn through compelling, succinct storytelling new lessons in leadership."
—Jane Wells, CNBC correspondent
"Ragone deftly mines pivotal moments in American history as he takes us through this clear-eyed and intelligent exploration of presidential deliberation. The result is an engaging look at the workings of the presidency, and, more broadly, the very process of high-stakes decision-making."
—Peter S. Goodman, business editor of the Huffington Post, and author of Past Due: The End of Easy Money and the Renewal of the American Economy

About the Author
Nick Ragone, JD
(Georgetown University), is the author of The Everything American Government Book, Essential American Government, and President's Most Wanted: The Top Ten Book of Extraordinary Executives, Colorful Campaigns, and White House Oddities. He has written on recent presidential history and current events for U.S. News & Report.com and has also appeared on The CBS Early Show, CNBC, ABC News, and Wall Street Journal TV. He is a regular contributor to the Fox News Channel and the Fox Business Network.

Table of Contents
| | | |
| --- | --- | --- |
| | | |
| | Acknowledgements | 9 |
| | Foreword by Ali Velshi | 11 |
| | Introduction | 13 |
| | | |
| 1 | Washington Puts Down the Whiskey Rebellion | 17 |
| 2 | Thomas Jefferson Purchases the Louisiana Territory | 33 |
| 3 | Andrew Jackson Rejects Nullification | 47 |
| 4 | Lincoln Signs the Emancipation Proclamation | 67 |
| 5 | Teddy Roosevelt Builds the Panama Canal | 89 |
| 6 | Woodrow Wilson and the League of Nations | 111 |
| 7 | Franklin Roosevelt and the Lend-Lease Program | 129 |
| 8 | Truman Drops the Bomb | 155 |
| 9 | Truman Fires MacArthur | 173 |
| 10 | Eisenhower, Kennedy, and the Race to the Moon | 187 |
| 11 | Lyndon Johnson and Civil Rights | 207 |
| 12 | Richard Nixon Visits China | 225 |
| 13 | Ford Pardons Nixon | 241 |
| 14 | Reagan and the Evil Empire | 257 |
| 15 | Barack Obama Takes On Healthcare Reform | 271 |
| | | |
| | Afterword | 283 |
| | Notes | 285 |
| | Index | 325 |

Find Items On Similar Subjects

Presidential Courage
: Brave Leaders and How They Changed America 1789-1989