Mediocre Me
: How Saying No to the Status Quo Will Propel You From Ordinary to Extraordinary
John E. Michel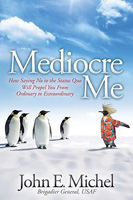 Format:
Paperback, 230pp.
ISBN:
9781614484400
Publisher:
Morgan James Publishing
Pub. Date:
March 12, 2013
Average Customer Review:

For Bulk Orders Call: 626-441-2024

Description and Reviews
From
The Publisher:
It's certainly easy to understand why mediocrity seems to be the new norm in our country. After all, take a look around. As you read this we find ourselves burdened with immense national debt, polarized political parties, sky high unemployment, and increasing levels of hunger, homelessness, and hopelessness. All while our discontent with leaders across all segments of society leaves us scratching our heads and searching our hearts to understand, "how did we end up here?"
The more important question, of course, is where do we go from here? And, as importantly, what role will you play? This is where I have some good news to offer. Mediocre Me reminds us the solution to the current mess we're in is already present—"invisible" in plain sight. It's not found in another government program nor can it be dictated merely by expert opinions. Rather, the answer to our individual and collective challenges is found in the inspiring example of those citizen-leaders in our midst who are hard at work trying to move things solidly forward in their spheres of influence. And, best of all, they are waiting for more of us to join them.
Sound frightening? Challenging? Too difficult to pull off, you say?
Think again.

Reviews
"Powerful stuff! General John Michel captivates and motivates each of us to act on the opportunities we have every day as citizen leaders to do something to build value into our surroundings. Through the inspirational stories of everyday people leading the positive change they want to see, the reader can't help but seek the answer to "what's my story?" If you're busy, oversubscribed, and finding yourself stalled out in your own status quo, this book is a MUST read. With seemingly minimal maneuver room in my own daily life as a working mother with young children, Mediocre Me is just the wake-up call I needed this season! It has reoriented my thinking, reenergized my attitude and recalibrated my life by helping me realize how by focusing more on possibilities than limitations, I can help make tomorrow a little better than I found it today in my part of the world...one choice at a time."
—Dr. Jean Mahan, Associate Professor at the Eisenhower School, National Defense University
"Mediocre Me is a potentially life-changing book with enormous application to current and ongoing events in today's society. If you watch the news, then this is the book you need to read--Now--to help you plot a course towards being an active leader of real, lasting change. Insightful, funny, full of reference, and dedicated to a common-good cause, Mediocre Me stood out to me thanks to the credibility of its author: John Michel. Brigadier General Michel stands out as a mighty leader of our generation, and this book sheds light on his thoughts for our future. Rather than dire predictions about the gloom that might be coming, Gen. Michel exudes optimism and highlights that we are all leaders--if only of ourselves--and that we have a strong hand to play in where our families, our communities and our societies are heading. A "take responsibility" theme is refreshing, motivating...and timeless. Best of all, it becomes a handbook that can be referenced quickly with a handy "Notes, Warnings and Cautions" section that is sure to morph into catch phrases splattered across the walls of high-performing organizations. In short, this book is a motivator. Gen. Michel enjoyably shares his vision for a solution and gives us the simple instructions to make it happen. Better than a good read, Mediocre Me is a swift-kick in the pants to stand up, take responsibility and take action!"
—Matthew T. "MONTY" Fritz, Lt Col, USAF
"I loved this book! Page after page it informed, inspired, and perhaps most importantly empowered me to go out and make a real, tangible difference in my world. No doubt reading this book will change your attitude—the real upside is it might just change the entire trajectory of your life."
—Mark Tidwell, Executive Minister, Oak Hills Church


Reader's Index
Send us your favorite quotes or passages from this book
.
• "Quite unintentionally, we fell prey to the lie that success was a right we deserved rather than a privilege we must continue to earn. And just like that, the ethic of personal and collective responsibility, our nation's true source of strength, began to collapse. Selfishness, propelled by slick marketing campaigns and the nonstop introduction of neat new products designed to make us look younger, feel thinner, or appear happier once again displaced selflessness. A growing sense of individual entitlement overshadowed the importance of maintaining accountability for one's personal state of affairs."

r>
About the Author
Brigadier General John E. Michel
has served our nation as a member of the United States Air Force for twenty-four years. A command pilot with over 3,300 hours of flying time, he has commanded a tanker flying squadron, an expeditionary operations group in support of operations in the Middle East, and a tanker wing in North Dakota. A recognized expert in individual and organizational change, he has led several multi-billion dollar transformation efforts for the Department of Defense, and his work in the area of resilience development and positive change has been adopted for use by the Air Force and reported in the Harvard Business Review. General Michel is currently stationed in Southern Illinois with his wife, Holly, and their two sons, Taylor and Brandon.