Type R
: Transformative Resilience for Thriving in a Turbulent World
Ama Marston and Stephanie Marston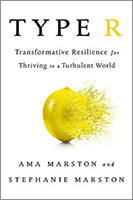 Format:
Hardcover, 256pp.
ISBN:
9781610398060
Publisher:
PublicAffairs
Pub. Date:
January 9, 2018
Average Customer Review:

For Bulk Orders Call: 626-441-2024

Description and Reviews
From
The Publisher:
Forget Type As and Bs. The future lies with Type Rs-the resilient individuals, leaders, businesses, families, and communities who turn challenges into opportunities in times of upheaval, crisis, and change.
In
Type R
, Ama Marston and Stephanie Marston explore Transformative Resilience and the strategies of those who use difficult circumstances as catalysts for growth--springing forward rather than bouncing back during turbulent times.
Here, Ama and Stephanie share inspiring stories of Type Rs thriving during unprecedented world events and increasing global pressures--from climate change to financial crises. They share the individual and collective triumphs of people coping with the stress of daily life and the challenges and disruptions that rattle all our lives at some point. And they draw upon research that spans the personal and the professional, the local and the global. Reaching across psychology, neuroscience, business, and politics, Type R demonstrates how we can use challenges to innovate, create new strengths, and grow.
Type R
also teaches leaders, businesses, and organizations how to cultivate the critical Type R Vision and Culture, which is essential for navigating and thriving in disruptive change. This thought-provoking book proves that there is much we can learn from those who use change, stress, and adversity as springboards to progress in a chaotic world.

Reviews
"The authors offer an informative and inspiring book on some remarkably positive responses to misfortune and change...engaging, useful."
—Kirkus Reviews
"A thought-provoking stance on uncertainty and resilience...This insightful road map to living in a world of uncertainty will leave readers hoping they too can be type Rs."
—Publishers Weekly
"Type R makes an impressive step towards reimagining how we live, work, and lead, going beyond past thinking to draw on research and a brave new vision for the future to help guide us to success in our complex world."
—Mary Robinson, President of the Mary Robinson Foundation-Climate Justice, and Former President of Ireland
"Transformational change demands constancy of purpose. Constancy of purpose demands transformative resilience. The authors thoughtfully advance this concept in a fashion that can be helpful to any leader who is trying to help their organization thrive in the face of adversity. A worthy read."
—Doug Conant, CEO, Conant Leadership, Former CEO of Campbell Soup, Former CEO of Nabisco Foods
"In a world of rapid change and unavoidable uncertainty, Type R offers a positive path to growth. The stories and insights collected here have informed my own life and the lessons I strive to teach my children. May they find a much wider audience!"
—Anne-Marie Slaughter, President and CEO, New America

About the Authors
Ama Marston
is an international strategy and leadership expert as well as a recognized thought leader focused on Transformative Resilience and inclusive and purpose-driven leadership and business. She is the founder of Marston Consulting, which has provided services to Fortune 500 and FTSE companies, the United Nations, Oxford University and numerous others. Her work with leaders like Mary Robinson, Ireland's first female President and Joseph Stiglitz, the Nobel laureate economist and as a top advisor to the UN and international NGOs has placed her at dozens of decision-making tables and taken her to work in countries around the world. Ama has long been hailed as a leader and original thinker and has won several awards, including a Council of Women World Leaders Fellowship and Phi Beta Kappa national honors, and was nominated as a World Economic Forum Young Global Leader. She earned a master's degree from Columbia University's School of International and Public Affairs and currently splits her time between the UK and the US.
Stephanie Marston
is a pioneering psychotherapist with more than 30 years experience and is a widely recognized stress and work-life expert and corporate consultant. She is the founder of 30 Days to Sanity, a stress and work/life online platform. She has published five previous books and has appeared frequently on shows such as The Oprah Show, The Today Show, CNN Headline News and numerous other radio and TV shows. Stephanie has also served on the WebMD clinical advisory board. She consults with some of the world's most prestigious corporations including Whirlpool Corporation, H.J. Heinz Company, Xerox Corporation, Mattel Inc., Prudential Insurance, Morgan Stanley, and The Mayo Clinic. Stephanie lives in Santa Fe, New Mexico.