The Mathematical Corporation
: Where Machine Intelligence and Human Ingenuity Achieve the Impossible
Josh Sullivan and Angela Zutavern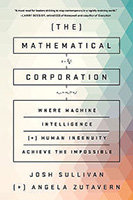 Format:
Hardcover, 304pp.
ISBN:
9781610397889
Publisher:
PublicAffairs
Pub. Date:
June 6, 2017
Average Customer Review:

For Bulk Orders Call: 626-441-2024

Description and Reviews
From
The Publisher:
The most powerful weapon in business today is the alliance between the mathematical smarts of machines and the imaginative human intellect of great leaders. Together they make the mathematical corporation, the business model of the future.
We are at a once-in-a-decade breaking point similar to the quality revolution of the 1980s and the dawn of the internet age in the 1990s: leaders must transform how they run their organizations, or competitors will bring them crashing to earth--often overnight.
Mathematical corporations--the organizations that will master the future--will outcompete high-flying rivals by merging the best of human ingenuity with machine intelligence. While smart machines are weapon number one for organizations, leaders are still the drivers of breakthroughs. Only they can ask crucial questions to capitalize on business opportunities newly discovered in oceans of data.
This dynamic combination will make possible the fulfillment of missions that once seemed out of reach, even impossible to attain. Josh Sullivan and Angela Zutavern's extraordinary examples include the entrepreneur who upended preventive health care, the oceanographer who transformed fisheries management, and the pharmaceutical company that used algorithm-driven optimization to boost vaccine yields.
Together they offer a profoundly optimistic vision for a dazzling new phase in business, and a playbook for how smart companies can manage the essential combination of human and machine.

Reviews
In an age when data is king, Sullivan and Zutavern (senior v-p and v-p, respectively, of consultancy Booz Allen Hamilton) attempt to prove that human smarts are still valuable, but their far-reaching arguments add up to little more than banal truisms. The authors posit a new form of leadership that relies on machine intelligence, utilizing robust data science. They researched hundreds of organizations to find out how technology and leadership combined would influence the behavior and success of business, government, and nonprofit organizations. The "hidden digital world" relies on data, they write, and this data can help businesspeople understand how people work. The authors stress the power of intuition and the fact that machines, for all their usefulness, are incapable of creativity. Discussions of ethics and what should be considered private data are thought-provoking, but the book is bogged down by high-minded language that sounds lofty but is low on content. Grandiose claims (including the paradoxical title) are paraded out but add up to an unnecessary argument for combining rich data and strong leadership; it's hard to imagine who would disagree with the precept.
— Publishers Weekly, 05/01/2017
"Shrewd corporate executives are realigning their organizations to harness the burgeoning power of cyberintelligence. ... Nonetheless, both corporate executives and government leaders still need inquisitive and creative humans ... A lucid overview of the management principles rapidly moving that world forward."
—Booklist (starred review)

About the Authors
Dr.
Josh Sullivan
is senior vice president at Booz Allen Hamilton and one of the world's leading experts in data science and machine intelligence.
Angela Zutavern
is vice president of Booz Allen Hamilton and pioneered the application of machine intelligence to leadership and strategy. Together, they're radically transforming how Fortune 500 companies, nonprofits, and major government agencies perform by helping leaders shatter long-held constraints and reveal hidden truths about their organizations.