The Signals Are Talking
: Why Today's Fringe Is Tomorrow's Mainstream
Amy Webb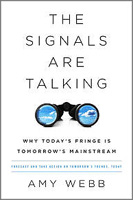 Format:
Paperback, 336pp.
ISBN:
9781541788237
Publisher:
PublicAffairs
Pub. Date:
March 6, 2018
Average Customer Review:

For Bulk Orders Call: 626-441-2024

Description and Reviews
From
The Publisher:
Amy Webb is a noted futurist who combines curiosity, skepticism, colorful storytelling, and deeply reported, real-world analysis in this essential book for understanding the future. The Signals Are Talking reveals a systemic way of evaluating new ideas bubbling up on the horizon—distinguishing what is a real trend from the merely trendy. This book helps us hear which signals are talking sense, and which are simply nonsense, so that we might know today what developments—especially those seemingly random ideas at the fringe as they converge and begin to move toward the mainstream—that have long-term consequence for tomorrow.
With the methodology developed in
The Signals Are Talking
, we learn how to think like a futurist and answer vitally important questions: How will a technology—like artificial intelligence, machine learning, self-driving cars, biohacking, bots, and the Internet of Things—affect us personally? How will it impact our businesses and workplaces? How will it eventually change the way we live, work, play, and think—and how should we prepare for it now?
Most importantly, Webb persuasively shows that the future isn't something that happens to us passively. Instead, she allows us to see ahead so that we may forecast what's to come—challenging us to create our own preferred futures.

r>
Reviews
"The clear, insightful, and humorous Amy Webb has crafted a rare treasure: a substantive guide written in a narrative that's a delight to read. While most futurologists want guru status through a few Nostradamus-like visions that never materialize, Webb modestly reports with depth and discipline, and creates a system and tools we can all use to better navigate the future. Through her deep research, specific anecdotes, and brilliant insights, she has performed the selfless but hugely valuable act of teaching us all to fish at the fringe."
—Christopher J. Graves, chairman, Ogilvy Public Relations Worldwide
"Amy Webb, with insight and a big dose of pragmatism, shows how to clearly see the next big disruption and then take action before it strikes."
—Ram Charan, advisor to CEOs and corporate boards, author of The Attackers Advantage, and coauthor of Execution: The Discipline of Getting Things Done
"Forecasting the future is a challenging—and absolutely necessary—part of every leader's job. In this ambitious and timely book, Amy Webb shows not only how to identify actual trends and surprises emerging from the fringes but—even more important—how to do something about them so you can thrive in the face of the unexpected."
—Craig Newmark, founder,Craigslist
"The best leaders will know how to listen for the future. Amy Webb's book tells you the signals to listen for—as well as the noise you should ignore. The signals are talking and leaders should listen."
—Bob Johansen, distinguished fellow, Institute for the Future, and author of Leaders Make the Future
"The renowned futurist Amy Webb zeroes in—with clarity, specificity, and verve—on the indispensable skill for people in every industry: how to recognize and interpret the clues that reveal the next big thing."
—Vivian Schiller, former president and CEO, National Public Radio
"[Webb's] detailed explanation… is based on many years of experience advising organizations and will undoubtedly help leaders contemplate what lies ahead…. Webb provides a logical way to sift through today's onslaught of events and information to spot coming changes in your corner of the world."
—Kirkus Reviews

About the Author
Amy Webb
is an author, futurist and founder of the Future Today Institute, a leading future forecasting and strategy firm that researches technology and answers "What's the future of X?" for a global client base. Her future forecasting work has been featured in the New York Times, Harvard Business Review, Wall Street Journal, Fortune, Fast Company and more. Her research has also been cited in several academic papers. She is a lecturer on the future of media at Columbia University, and this fall, she will join NYU's Stern School of Business as an adjunct professor to teach a new course on forecasting the future of technology. She was a 2014-15 Visiting Nieman Fellow at Harvard University. She founded Webbmedia Group (FTI's predecessor); co-founded Knowledgewebb Training, which facilitates hands-on workshops; and co-founded Spark Camp, a next-generation convener that facilitates important conversations on the future of a better society. Data is being adapted as a feature film, which is currently in production. Her previous book Data, a Love Story is being adapted as a feature film, which is currently in production.