The Attacker's Advantage
: Turning Uncertainty into Breakthrough Opportunities
Ram Charan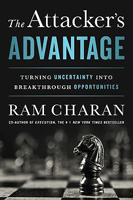 Format:
Hardcover, 240pp.
ISBN:
9781610394741
Publisher:
PublicAffairs
Pub. Date:
February 24, 2015
Average Customer Review:

For Bulk Orders Call: 626-441-2024

Description and Reviews
From
The Publisher:
The forces driving today's world of structural change create sharp bends in the road that can lead to major explosions in your existing market space. But exponential change also offers exponential opportunities. How do you leverage change to go on the offense?
The Attacker's Advantage
is the game plan for winning in an era of ambiguity, volatility, and complexity, when every leader and every business is being challenged in new and unexpected ways.
Ram Charan, harnessing an unequalled depth and breadth of experience working with leaders and companies around the globe, provides tested, practical tools to help you:
Build the perceptual acuity to see around corners and detect, ahead of others, those forces—especially people, who are the catalysts of change—that could radically reshape a company or industry
Have the mindset to see opportunity in uncertainty
Commit to a new path forward despite the unknowns, positioning your business to make the next move ahead of competitors
Break the blockages that can hold your company back
Know when to accelerate and when to shift the short-term and long-term balance
Make your organization agile and steerable by aligning people, priorities, decision-making power, budgeting and capital allocation, and key performance indicators to the new realities of the marketplace
The Attacker's Advantage
provides a stark and simple challenge: stay in a legacy world of incremental gains or defensiveness, or be an attacker by creating a new world, scaling it up quickly, ahead of the traditional players.

Reviews
"An invaluable resource for anyone navigating the market's ever-changing but always taxing demands."
—Publishers Weekly
"It is not enough for a sitting CEO-or any leader-to efficiently execute a successful strategy. As Ram points out you must be sufficiently alert to recognize early unfolding market disruptions. You need to be skilled not only in recognizing market changes but also in effectively transitioning the organization to exploit emerging opportunities. A must read for those leading companies in a tumultuous business environment."
—Larry Bossidy, retired CEO and chairman of Honeywell International and coauthor of Execution and Confronting Reality
"The Attacker's Advantage will challenge your beliefs and take you out of your comfort zone with stories and examples of how change is impacting business, and how the winners are transforming the threats from change into a competitive advantage for themselves."
—Kishore Biyani, founder and group CEO, Future Group
"Ram Charan is one of the most astute business thinkers I have interacted with. In The Attacker's Advantage he synthesizes his vast experience in guiding and dealing with a diverse set of boards, CEOs, and companies that are faced with one of the foremost business challenges of our times—dealing with structural uncertainty."
—Harsh Mariwala, chairman, Marico Ltd.

About the Author
Ram Charan
is a world-renowned advisor to CEOs, business unit managers, and boards of directors who value his practical solutions to complex business problems. Dr. Charan earned MBA and doctorate degrees from Harvard Business School, where he graduated with high distinction, and is the author (with Larry Bossidy) of the international bestseller Execution: The Discipline of Getting Things Done and many other books.