Fear Your Strengths
: What You Are Best at Could Be Your Biggest Problem
Robert E. Kaplan and Robert B. Kaiser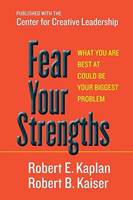 Format:
Hardcover, 120pp.
ISBN:
9781609949044
Publisher:
Berrett-Koehler Publishers
Pub. Date:
April 1, 2013
Average Customer Review:

For Bulk Orders Call: 626-441-2024

Description and Reviews
From
The Publisher:
Once you've discovered your strengths, you need to discover something else: your strengths can work against you. You can have too much of a good thing.
Many leaders know this on some intuitive level, and they see it in others. But they don't see it as clearly in themselves. Mainly, they think of leadership development as working on their weaknesses. No wonder. The tools used to assess managers are not equipped to pick up on overplayed strengths. Nowhere in most assessments is there language or diagnostics that can reveal when someone is overdoing it—when more is not better.
Nationally recognized leadership experts Bob Kaplan and Rob Kaiser have conducted thousands of assessments of senior executives designed to determine when their strengths are betraying them. They draw on their data to identify four fundamental leadership qualities, each positive in and of itself but each of which, if overemphasized, can seriously compromise your effectiveness. Most leaders, they've found, are "lopsided"—they favor certain qualities to the exclusion of others without realizing it. The trick is to keep all four in balance.
Consider Steve Jobs, who was fired from Apple because of his lopsided emphasis on grand strategic vision. It was when he returned and corrected that lopsidedness—exemplified in his mantra "real artists ship"—that Apple became the powerhouse it is today.
Fear Your Strengths
provides tools to help you become aware of your leadership leanings and excesses and provides insights for combatting the mindset that encourages them. It offers a practical psychology of leadership, a better way for leaders to calibrate their performance, one that is truer to the realities of managerial work.

Reviews
"It's a pleasure to read a book packed with new insights into what truly makes leaders effective, especially one written in such a vivid, engaging style. This is an extremely useful guide for leaders seeking a deeper understanding of who they are and how they can lead successfully in a complex, ever-changing world."
—David B. Peterson, PhD, Director of Learning and Development, Google Inc.
"This is a terrific book—powerful, very impactful. Ninety-five percent of the leaders who read it will say, 'I've got some work to do, and this book will help me do it.'"
—John Ryan, President, Center for Creative Leadership
"Another great set of ideas from Kaplan and Kaiser. How often do we hear the advice to 'build on your strengths'? That's just too simple. As a leader, you need to constantly adjust your game. This book tells you how."
—Liz Mellon, Executive Director, Duke Corporate Education
"This brilliantly practical work explains succinctly how to overcome the powerful tendency to misuse your strengths and become more versatile and balanced in your approach to leading. In an hour or so, find out how development really works and start changing in ways that matter."
—Michael Lombardo, cofounder, Lominger, Ltd., and author of the bestselling FYI: For Your Improvement
"The practice of executive assessment is overdue for an upgrade. This refreshing book is a big step in the right direction."
—Sandy Ogg, Operating Partner, Private Equity Group, Blackstone
"The book resonates. It sheds light on a subject that hasn't been addressed before. We usually say, the weaknesses need to be worked on and the strengths aren't an issue. I enjoyed the stories. I read it on vacation—that should say something."
—Steve Angel, CEO, Praxair
"With insightful examples, this book offers practical ways to deal with leadership strengths that can turn into derailers. I recommend it."
—Mirian Graddick-Weir, Executive Vice President, Human Resources, Merck
"Fear Your Strengths has great content, it's very practical, and it's a quick read."
—James Ryan, CEO, Grainger Inc.

About the Authors
Robert E. Kaplan
is founding partner of Kaplan DeVries Inc., a foremost consulting and research firm that specializes in assessment for selection and development.
Robert B. Kaiser
is president of Kaiser Leadership Solutions and a thought leader with over 150 publications and presentations to his credit. Kaplan and Kaiser are the authors of The Versatile Leader and codevelopers of the Leadership Versatility Index, a patented assessment tool.

Table of Contents
| | | |
| --- | --- | --- |
| | | |
| | Introduction | |
| | | |
| 1 | Strengths Beget Weaknesses—In Two Very Different Ways | |
| 2 | The Yin-Yang Responsibilities of a Leader | |
| 3 | Mind-set | |
| 4 | Dialing Back | |
| 5 | The Complete Leader | |