Stewardship
: Choosing Service Over Self-Interest
Peter Block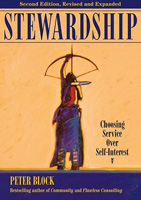 Format:
Paperback, 312pp.
ISBN:
9781609948221
Publisher:
Berrett-Koehler Publishers
Pub. Date:
May 20, 2013
Average Customer Review:

For Bulk Orders Call: 626-441-2024

Description and Reviews
From
The Publisher:
Stewardship was a provocative, even revolutionary, book when the first edition was published twenty years ago, and it remains as relevant and radical today as it was then. We still face the challenge of fostering ownership and accountability throughout our organizations. Despite all the evidence calling for profound change, most organizations still rely on patriarchy and control as their core form of governance. The result is that they stifle initiative and spirit and alienate people from the work they do. This in the face of an increasing need to find ways to be responsive to customers and the wider community.
Peter Block insists that what is required is a dramatic shift in how we distribute power, privilege, and the control of money. "Stewardship," he writes, "means giving people at the bottom and the boundaries of the organization choice over how to serve a customer, a citizen, a community. It is the willingness to be accountable for the well-being of the larger organization by operating in service, rather than in control, of those around us."
Block has revised and updated the book throughout, including a new introduction addressing what has changed—and what hasn't—in the twenty years since the book was published and a new chapter on applying stewardship to the common good of the wider community. He covers both the theory of stewardship (in particular how it ameliorates the shortcomings of traditional leadership) and the practice (how it transforms every function and department for the better). And he offers tactical advice as well on gearing up to implement these reforms.
This is such a foundational and far-reaching rethinking of leadership, power, purpose, governance, and participation in organizations and communities that the ideas of this book will continue to open our minds and change our thinking for decades to come.
The concept of stewardship means choosing service over self-interest, in order to improve all areas of organizational governance and management. The book covers redesigning management practices, roles of staff groups, budgetary and financial practices, human resource practices, pay and performance appraisal systems. By replacing self-interest, dependency, and control with service, responsibility, and partnership, Block believes we can increase productivity and enable democracy and economic success to thrive in our organizations.

Reviews
"Be forewarned: this is a scary read. In the twenty years I have been engaged in collaborative leadership programs, Peter has been a go-to author for challenging the theory and practice of leadership. In this second edition of Stewardship, Peter leaves us nowhere to hide as he takes an in-depth look at what it truly means to lead from the heart in a culture driven by accountability, metrics, and control. Every 'yes but' I raised is countered with examples, metaphors, skillful explanation, case studies, quotes, practical suggestions, and Peter's trademark creativity and faith in our ability to do the right thing for the common good."
—Anne J. Udall, Trustee, American Leadership Forum (ALF); former Director, Charlotte Region Chapter, ALF; and Vice Chair, Udall Foundation
"Like Robert Greenleaf before him, Peter Block's voice is that of a contemporary prophet. This revised edition of Stewardship is one of the best books ever written. It serves as a powerful source of hope and encouragement for servant-leaders everywhere."
—Larry C. Spears, coauthor of Insights on Leadership, The Spirit of Servant-Leadership, and Fortuitous Encounters
"Over the past forty years, through Stewardship and other seminal works, Peter Block has articulated the course required for effective leadership in the 21st century. If only more managers and leaders from every sector took note and practiced the principles of stewardship—productivity would rise, people would be healthier, local community life would be flourishing, and the spirit of democracy would be enlivened worldwide. His message is that essential and that scalable."
—Lynn Luckow, President and CEO, LikeMinded.org, and former President and CEO, Craigslist Foundation
"Stewardship is love in action. It is time for our organizations to rethink how they exercise power and control. In our changing country and world, our capacity for stewardship may be what ultimately saves our democracy and models accountability and freedom, in their real sense, for the rest of the world. As usual, Peter Block points us in the direction of our better selves, living out a better future."
—Sayra Pinto, Principal, Matriz Coaching & Consulting
"This is one of those very rare anomalies: a second edition that is more essential and timely than the first. It spotlights our current dysfunctionalities—such as the literal looting of so many of our organizations by self-serving top levels—and how far we have actually regressed from a pattern of commitment to service and healthy work environments in most corporations. It's impossible to read this book and then continue to look at current organizational processes as (desirable) 'business as usual.'"
—Fritz Steele, organizational and environmental consultant and coauthor of The Arrogant Leader
"As with his other books, the second edition of Stewardship forces the reader to rethink basic assumptions about leadership and change in organizations. Peter always challenges my thinking and offers a perspective that I have never found elsewhere. He makes espoused values come alive. Leading in the way Peter describes requires courage, a virtue missing in many of today's organization leaders. Peter's unique ability to pinpoint the true source of power and confront the reader in a way that cuts through defenses makes reading Stewardship a true learning and growth experience."
—Cliff Bolster, Leadership and Learning Consultant, Bolster & Associates, Inc.
"Peter Block is one of the most provocative and iconoclastic thinkers we have on the topics of leadership, business, and organizational design. His insights are still fresh and razor sharp, and he expresses them in a singular, poetic style. The new edition of this foundational text extends the scope of his insights to meet the challenges that have arisen in the last twenty years and shows how to create not just productive and humane workplaces but vibrant communities, an engaged democracy, and a healthy planet."
—Toni A. Gregory, EdD, Associate Dean for Academic Affairs, PhD Program in Interdisciplinary Studies, Union Institute & University
"Peter Block's second edition of Stewardship is even more provocative than the first edition was twenty years ago because we are more fearful about our economic and personal well-being than ever before. Block helps us see our own complicity and interconnectedness with all that goes on around us and, with this updated edition, will help a new generation learn that the way to find meaning and purpose in life is to form partnerships for the common good, empower each other through human understanding, and together, build competent societies."
—Frances Strickland, PhD, President, Smith Educational Enterprises

About the Author
Peter Block
is a partner in Designed Learning, a training company that offers workshops designed to build the skills outlined in his books. He is the recipient of many awards, including the Organization Development Network's Lifetime Achievement Award and ASTD's Award for Distinguished Contribution to Workplace Learning, and was named to Training Magazine's HRD Hall of Fame. He is the author or coauthor of eight books.

Table of Contents
| | | |
| --- | --- | --- |
| | | |
| | Foreword | |
| | Preface | |
| | | |
| | Pt. 1 Trading Your Kingdom for a Horse | 1 |
| 1 | Replacing Leadership With Stewardship | 3 |
| 2 | Choosing Partnership Over Patriarchy | 23 |
| 3 | Choosing Adventure Over Safety | 33 |
| 4 | Choosing: Service Over Self-Interest | 41 |
| | Pt. II The Redistribution of Power, Purpose, and Wealth | 53 |
| 5 | Defining the Stewardship Contract | 63 |
| 6 | Upsetting Expectations: The Emotional Work of Stewardship | 75 |
| 7 | Redesigning Management Practices and Structures | 91 |
| 8 | Rethinking the Role of Staff Functions | 115 |
| 9 | Financial Practices: Creating Accountability With Self-Control | 135 |
| 10 | Human Resources: Ending the Practice of Paternalism | 147 |
| 11 | Compensation and Performance Evaluation: Overturning the Class System | 161 |
| | Pt. III The Triumph of Hope over Experience | 183 |
| 12 | Cosmetic Reform: When the Disease Becomes the Cure | 185 |
| 13 | Recreating Our Organization Through Stewardship | 203 |
| 14 | Cynics, Victims, and Bystanders | 221 |
| 15 | Choosing Freedom, Service, and Adventure | 233 |
| | | |
| | Lost and Found | 243 |
| | The Artist | 255 |
| | The Author | 256 |
| | Index | 257 |