Stepping Up
: How Taking Responsibility Changes Everything
John B. Izzo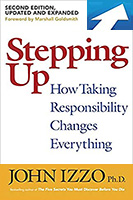 Format:
Paperback, 192pp.
ISBN:
9781523091454
Publisher:
Berrett-Koehler Publishers
Pub. Date:
2nd edition - November 24, 2020
Average Customer Review:

For Bulk Orders Call: 626-441-2024

Description and Reviews
From
The Publisher:
All too often, the challenges we face seem overwhelming. Where do we start? What if we fail? But bestselling author John Izzo argues that almost every problem, from personal difficulties and business challenges to social issues, can be solved if all of us look to ourselves to create change rather than looking to others. And with the research to prove it, Izzo shows that by seeing ourselves as the locus of control rather than the victims of change, we are happier, less stressed, and more powerful.
Izzo shows how taking responsibility changes our careers, our companies, our lives, and our communities. This book is filled with stories that illustrate the incredible power of stepping up: a homeless man who started a recycling revolution, a middle-aged Italian shopkeeper who fought back against the Mafia, two teenagers who ignited an antibullying movement, an executive who turned a dying division into a profit center, and a few employees who created a multibillion dollar product for Starbucks, and many more. This second edition includes a new chapter on the Stepping Up Continuum, a model that looks at six ways to know if you are stepping up or stepping back, as well as fresh stories and a self-assessment tool for helping leaders create a culture for stepping up in their organizations. We have the power within ourselves to move mountains--we just have to decide that we are the ones to do it.

Reviews
"Insightful and inspired! Stepping Up reveals how all of us can create positive change in life and work."
—Marshall Goldsmith, world-renowned executive coach and author of the New York Times bestsellers Mojo and What Got You Here Won't Get You There
"This powerful, practical, life-changing book gives you the key to unlocking your full potential for greater success, achievement, and personal power in every area of your life."
—Brian Tracy, bestselling author of Eat that Frog! and Goals!
"The perfect book for the times in which we live…page after page of engaging stories, profound insights, and practical tips on how you can stand up and take responsibility for making something meaningful happen."
—Jim Kouzes, Dean's Executive Fellow of Leadership, Leavey School of Business, Santa Clara University, and coauthor of the bestselling The Leadership Challenge and Credibility

About the Author
Dr.
John Izzo
has been a pioneer on creating successful businesses and emerging work trends for over twenty-five years. Izzo was a pioneer on employee engagement and social responsibility with his book
Awakening Corporate Soul
(1994), a trail blazer on shifting generational values when he wrote
Values Shift-The New Work Ethic
(2000), showed how individuals shape the future with
Stepping Up
(2014) and now blazing a new trail showing business why a rising class of people worldwide will shape the economy of the future with his latest book
The Purpose Revolution
(2018). This rising class is not one of nationality, income, race or gender but one that aspires to have a good life while doing good.

Table of Contents
| | | |
| --- | --- | --- |
| | | |
| | Foreword by Marshall Goldsmith | vii |
| | Preface | ix |
| | | |
| 1 | The Five Rows of Responsibility | 1 |
| 2 | It's Not My Job, It's Not My Fault | 17 |
| 3 | I Am Only One Person | 29 |
| 4 | Only Naïve People Change the World | 39 |
| 5 | 100% Responsibility/No Excuses | 51 |
| 6 | Do Something ... Do Anything | 65 |
| 7 | Always Begin in the Room You Are In | 77 |
| 8 | Leadership Is Not a Position | 89 |
| 9 | Stepping Up by Speaking Up | 101 |
| 10 | Who Am I to Step Up? | 113 |
| 11 | Creating a Culture of Stepping Up | 127 |
| 12 | One Person Always Matters | 145 |
| | | |
| | Stepping Up for Change | 153 |
| | Key Themes in this Book | 155 |
| | | |
| | Acknowledgments | 157 |
| | Index | 161 |
| | About the Author | 165 |