Change Intelligence
: Use the Power of CQ to Lead Change That Sticks
Barbara Trautlein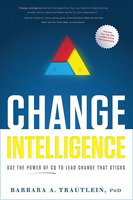 Format:
Hardcover, 250pp.
ISBN:
9781608324422
Publisher:
Greenleaf Book Group Press
Pub. Date:
May 14, 2013
Average Customer Review:

For Bulk Orders Call: 626-441-2024

Description and Reviews
From
The Publisher:
In the world of business, the ability to handle constant change makes the difference between success and failure. Today, executives, supervisors, and project managers have plenty of methodologies for managing change, yet the failure rate of major organizational change is still an abysmal 70 percent.
In this innovative guide, Barbara Trautlein argues that this is because our current approaches are inadequate when not used in tandem with a deep understanding of change intelligence, or CQ—the skill set required to lead a team or company through vital transformations. Inside, she gives readers access to a proprietary, interactive CQ assessment that's based on substantial research and experience in working with hundreds of top organizations. And after readers learn their own change leader style, they go on to discover practical strategies for leveraging their strengths and shoring up their weak spots.
Trautlein, a leading authority on change leadership, keeps the theory light and delves into insightful case studies drawn from her decades of experience. Her example-based approach allows readers to plainly see how they can start driving real transformation—not by adopting yet another new tool but by bolstering their own capacity for change leadership.

Reviews
''Change Intelligence delivers the leadership Mojo you need to initiate winning streaks and to create profitable results for your organization.''
—Marshall Goldsmith is the million-selling author of the bestsellers, What Got You Here Won't Get You There, MOJO and Succession.
''As the president of a steelmaker in charge of leading changes from integrating acquisitions to pursuing new markets to implementing new technologies, I can tell you from direct experience that the CQ System works. Change Intelligence is more than just an entertaining read or abstract theory: Trautlein provides a clear roadmap for developing change leadership organization-wide using proven case studies on building bench strength from the executive suite to the shop floor and equipping change leaders.''
—Dick Teets, Executive Vice President for Steelmaking and President and Chief Operating Office for Steel Operations, Steel Dynamics, Incorporated
''Change Intelligence is an engaging read, enlightening for me personally as a leader and a great basis for team conversations. Understanding where you fall as a change leader is the compelling part of this book, and exploring the different styles of change leaders is incredibly thought provoking. Having gone through a sizable merger and facing system-wide change, the CQ process helps me as a CEO and my senior management team identify issues on how to lead our organization.''
—Peter Bergmann, President and CEO, Sisters of Charity Hospital, Catholic Health System
''Change is the work of leaders, and if you are going to do that work exceptionally then the best place to learn how is in Barbara Trautlein's new book, Change Intelligence. She persuasively makes the case that the success of leaders now and in the future depends on their abilities to thrive on change, and Change Intelligence is full of the kinds of useful resources that will enable you to do just that. It offers extremely perceptive descriptions of the roles and styles of change, connects you to a highly useful self-assessment of your strengths and weaknesses, presents real-life case examples of change leaders in action, and contains dozens of practical tips and tools to improve your CQ. Change is hard work, but it ll be a lot easier after you've read and applied the lessons in Change Intelligence.''
—Jim Kouzes, coauthor of the best-selling The Leadership Challenge and Executive Fellow of Leadership, Leavey School of Business, Santa Clara University
''Change Intelligence offers an insightful, comprehensive analysis of what works and what doesn't in the change process. This book is packed with useful guidance for leaders at every organizational level who need to understand their own styles and roles in order to maximize their effectiveness.''
—Rosabeth Moss Kanter, Harvard Business School Professor and author of Confidence and SuperCorp: How Vanguard Companies Create Innovation, Profits, Growth, and Social Good
''Cultivating talented leaders capable of meeting the demanding challenges of our highly competitive industry is crucial for our organization's transformation. That's why we've integrated CQ into our talent program curricula for high potential business and technology leaders. Change Intelligence provides us with a practical approach, shared language, and a model to equip our leaders to spearhead transformation throughout our diverse enterprise.''
—Kevin Munson, Chief Learning Officer, Sears Holdings Corporation

About the Author
Barbara A. Trautlein
, PhD, is the founder of Change Catalysts, an organizational development and change management consulting company, where she has served as principal for twenty-plus years. A highly respected consultant and international speaker, Barbara has provided consulting and coaching services to leaders at several Fortune 50 client corporations as well as at many small- to mid-sized organizations. She has been invited to make presentations, conduct workshops, and chair conference sessions in the United States, Canada, Latin America, Asia, and Africa, and has served as an expert panel member for the Top Small Workplace Award, a nationwide honor cosponsored by the Wall Street Journal and Winning Workplaces. She has also served as an expert reviewer for Workforce 2.0, a joint initiative of the McArthur Foundation, HRMAC, World Business Chicago, and the Council for Adult and Experiential Learning.