Dare
: Accepting the Challenge of Trusting Leadership
Scott Weiss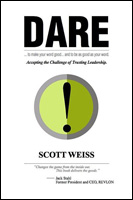 Format:
Hardcover, 176pp.
ISBN:
9781608324224
Publisher:
Greenleaf Book Group Press
Pub. Date:
April 2, 2013
Average Customer Review:

For Bulk Orders Call: 626-441-2024

Description and Reviews
From
The Publisher:
Not Business as Usual
In the current business climate of distrust, cynicism, and fear, Scott Weiss offers a radical challenge to those of us who lead others. His call for authentic leadership means dropping the mask of the Executive Persona as well as the camouflage and doubletalk of traditional corporate communications. It demands an end to our self-deceptions and the deception of others in the name of business as usual. Those who are brave enough to accept his DARE will discover...
• More loyal, satisfied clients and customers
• Reduced turnover and more
• engaged employees
• A more creative, innovative, and collaborative workplace
• Less personal conflict and more genuine relationships
• The passion to thrive, not just survive, in our professions
A courageous book that calls on leaders themselves to step up and make the changes that will rebuild trust and restore business integrity for customers, employees, and the global public.

Reviews
''The Dare is a heartfelt, thoughtful challenge to the way business is conducted today... thought provoking and practical at the same time.''
—Arthur M. Blank, Co-founder, The Home Depot, Owner and Chairman, Atlanta Falcons
''If business is going to win over today's disillusioned audiences, it will be by following the path laid out in this lively and thought-provoking book. Here's hoping leaders will read it and heed it.''
—Anne Fisher, Columnist, Fortune.com
''We are in the age of ordinary heroes; and from my little view of the world, authenticity is what separates ordinary heroes from the ''celebrity'' hero of the past few decades.'
—Ron Ricci, Corporate Vice President of Positioning, Cisco Systems
''Even though sometimes unpleasant, being honest, transparent and authentic builds trust the most important building block for sustainable relationship both in business and private life. Scott does a convincing job on why you must accept the DARE!''
—Arto Kuuslinen, Executive Partner, Accenture
''Changes the game from ther inside out. This book delivers the goods.''
—Jack Stahl, Former President and CEO, REVLON
''We're living in a state of communication crisis. A time when honor and truth are in short supply and ''spin'' rules the day. Scott is calling us all out to examine not only the words that flurry around us, but equally as riveting -- to hold ourselves accountable as well.''
—Coleman Breland, Chief Operating Officer, Turner Network Sales Turner Broadcasting

About the Author
Scott S. Weiss
is the President and CEO of Speakeasy, Inc., a 40 year-old global communication consulting firm with offices in Atlanta, New York, and San Francisco. Through his leadership work at Speakeasy, Scott has developed a unique perspective on the way today's executives communicate – internally with their staffs and externally with their various constituents. The result is his "DARE" to the business community. Scott has been featured in Forbes, Fortune, and CNN Money as a thought leader on the impact of executive authenticity and transparency and is a frequent speaker on the subject. He is a graduate of Michigan State University, and has served as an adjunct professor at the Georgia Tech School of Management. He and his wife, and their three children live in Atlanta, Georgia.

Table of Contents
| | | |
| --- | --- | --- |
| | | |
| | Acknowledgments | xi |
| | | |
| 1 | A Crisis of Trust | 1 |
| 2 | The Leadership Persona | 7 |
| 3 | What's Wrong with our Customers? | 25 |
| 4 | Straight Talk to the Workforce | 39 |
| 5 | New Values for Great Leaders | 53 |
| 6 | Customer Conversations | 77 |
| 7 | Trusting Corporate Cultures | 93 |
| 8 | Is Business Evil? | 119 |
| | | |
| | About the Author | 133 |
| | About Speakeasy | 135 |
| | Notes | 137 |
| | Index | 141 |