Turn the Ship Around!
A True Story of Building Leaders by Breaking the Rules
David Marquet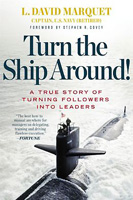 Format:
Hardcover, 272pp.
ISBN:
9781591846406
Publisher:
Portfolio Hardcover
Pub. Date:
May 16, 2013
Average Customer Review:


For Bulk Orders Call: 626-441-2024

Description and Reviews
From
The Publisher:
"Leadership should mean giving control rather than taking control and creating leaders rather than forging followers."
David Marquet, an experienced Navy officer, was used to giving orders. As newly appointed captain of the USS Santa Fe, a nuclear-powered submarine, he was responsible for more than a hundred sailors, deep in the sea. In this high-stress environment, where there is no margin for error, it was crucial his men did their job and did it well. But the ship was dogged by poor morale, poor performance, and the worst retention in the fleet.
Marquet acted like any other captain until, one day, he unknowingly gave an impossible order, and his crew tried to follow it anyway. When he asked why the order wasn't challenged, the answer was "Because you told me to." Marquet realized he was leading in a culture of followers, and they were all in danger unless they fundamentally changed the way they did things.
That's when Marquet took matters into his own hands and pushed for leadership at every level.
Turn the Ship Around!
is the true story of how the Santa Fe skyrocketed from worst to first in the fleet by challenging the U.S. Navy's traditional leader-follower approach. Struggling against his own instincts to take control, he instead achieved the vastly more powerful model of giving control.
Before long, each member of Marquet's crew became a leader and assumed responsibility for everything he did, from clerical tasks to crucial combat decisions. The crew became fully engaged, contributing their full intellectual capacity every day, and the Santa Fe started winning awards and promoting a highly disproportionate number of officers to submarine command.
No matter your business or position, you can apply Marquet's radical guidelines to turn your own ship around. The payoff: a workplace where everyone around you is taking responsibility for their actions, where people are healthier and happier, where everyone is a leader.

>
Reviews
"David Marquet is the kind of leader who comes around only once in a generation. He doesn't just know how to lead, he knows how to build leaders. His ideas and lessons are invaluable to anyone who wants to build an organization that will outlive them."
—SIMON SINEK,optimist and author of Start With Why
"Turn the Ship Around! delivers a brilliant message."
—LIZ WEISMAN, author of Multipliers
"Read Turn the Ship Around! and you will learn how to build an enduring high performer, where people can't wait to get to work."
—ADMIRAL THOMAS B. FARGO (USN, RET.) former commander, U.S. Pacific Command, and chairman, Huntington Ingalls Industries
"It's The Hunt for Red October meets Harvard Business School."
—JOE DEBONO, founder and president, MBA Corps

About the Author
A top graduate from the U.S. Naval Academy,
L. David Marquet
led a distinguished career in the U.S. submarine force. He commanded the nuclear-powered fast-attack submarine USS Santa Fe, stationed in Pearl Harbor, Hawaii. Captain Marquet completely turned around Santa Fe, where the crew went from being "worst to first." Santa Fe earned numerous awards for being the most improved ship in the Pacific and the most combat-effective ship in the squadron. Santa Fe continued to win awards after his departure and promoted a disproportionate number of officers and enlisted men to positions of increased responsibility. After riding USS Santa Fe, noted author Stephen R. Covey said it was the most empowering organization he'd ever seen and wrote about Captain Marquet's leadership practices in his book, The 8th Habit. His bold and highly effective leadership can be summarized as "give control, create leaders." He is a life member of the Council on Foreign Relations and lives in Florida with his wife, Jane.