Reviving Work Ethic
: A Leader's Guide to Ending Entitlement and Restoring Pride in the Emerging Workforce
Eric Chester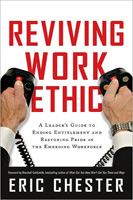 Format:
Hardcover, 224pp.
ISBN:
9781608322428
Publisher:
Greenleaf Book Group Press
Pub. Date:
January 5, 2012
Average Customer Review:

For Bulk Orders Call: 626-441-2024

Description and Reviews
''Too many young people are under the impression that work is a four-letter word; something to be avoided. Chester shows leaders how to get inside their heads--and their hearts--and get them to take pride in their work and perform at their best.''
—Ron Boire, president and CEO, Brookstone
''Eric has distilled his vast experience into a timely and concise book that will be very valuable to anyone who wants to improve the performance of young people in today's workforce. This is a must-read for managers, teachers, and parents.''
—Ted Fowler, president and CEO, Golden Corral
''Nothing beats hard work, and never will. The problem is that it is in short supply. In this wonderful book Eric Chester lays out the path to getting back to basics and unleashing winning behaviors in your workforce. Read it, study it and then DO IT! It will make you a better leader.''
—Chester Elton, coauthor of best-selling The Orange Revolution and The Carrot Principle
''Chester certainly has a handle on driving performance through the emerging workforce. And with the diminishing work ethic being such a pressing concern for leaders, the timeliness of this book couldn't be better.''
—Donald Broman, president, Snap On Industrial
''No one knows the emerging workforce better than Eric Chester. He's spot on when it comes to the challenge leaders face for improving work ethic and restoring pride, and he offers advice that is both practical and solid.''
—Joseph M. DePinto, president and CEO, 7-Eleven

About the Author
Eric Chester
is an acclaimed expert in school-to-work transition. He has presented for more than two million youth at 1,500 high schools and colleges and has spoken to hundreds of leading companies and organizations that rely on teens and young adults as their front line workforce. Chester is the author four books, most recently Getting Them to Give a Damn and has coauthored eight others. He's the founder of the Bring Your ''A'' Game to Work youth training and certification program and is the president of Reviving Work Ethic, Inc., a speaking and consulting firm.