Onward
: How Starbucks Fought for Its Life without Losing Its Soul
Howard Schultz with Joanne Gordon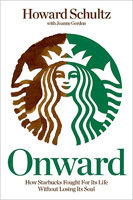 Format:
Paperback, 384pp.
ISBN:
9781609613822
Publisher:
Rodale Books
Pub. Date:
March 27, 2012
Average Customer Review:


For Bulk Orders Call: 626-441-2024

Description and Reviews
From
The Publisher:
In 2008, Howard Schultz, the president and chairman of Starbucks, made the unprecedented decision to return as the CEO eight years after he stepped down from daily oversight of the company and became chairman. Concerned that Starbucks had lost its way, Schultz was determined to help it return to its core values and restore not only its financial health, but also its soul. In
Onward
, he shares the remarkable story of his return and the company's ongoing transformation under his leadership, revealing how, during one of the most tumultuous economic times in history, Starbucks again achieved profitability and sustainability without sacrificing humanity.
Offering readers a snapshot of a moment in history that left no company unscathed, the book zooms in to show, in riveting detail, how one company struggled and recreated itself in the midst of it all. The fastpaced narrative is driven by day-to-day tension as conflicts arise and lets readers into Schultz's psyche as he comes to terms with his limitations and evolving leadership style.
Onward
is a compelling, candid narrative documenting the maturing of a brand as well as a businessman.
Onward
represents Schultz's central leadership philosophy: It's not just about winning, but the right way to win. Ultimately, he gives readers what he strives to deliver every day—a sense of hope that, no matter how tough times get, the future can be just as or more successful than the past, whatever one defines success to be.

Reviews
In 2000, Starbuck's founder and CEO Schultz (Pour Your Heart into It) stepped down from daily oversight of the company and assumed the role of chairman. Eight years later, in the midst of the recession and a period of decline unprecedented in the company's recent history, Schultz--feeling that the soul of his brand was at risk--returned to the CEO post. In this personal, suspenseful, and surprisingly open account, Schultz traces his own journey to help Starbucks reclaim its original customer-centric values and mission while aggressively innovating and embracing the changing landscape of technology. From the famous leaked memo that exposed his criticisms of Starbucks to new product strategies and rollouts, Schultz bares all about the painful yet often exhilarating steps he had to take to turn the company around. Peppered with stories from his childhood in tough Canarsie, N.Y., neighborhoods, his sequel to the founding of Starbucks is grittier, more gripping, and dramatic, and his voice is winning and authentic. This is a must-read for anyone interested in leadership, management, or the quest to connect a brand with the consumer.
—Publishers Weekly, Starred Review


Reader's Index
Send us your favorite quotes or passages from this book
.
• "No single bad decision or tactic or person was to blame. The damage was slow and quiet, incremental, like a single loose thread that unravels a sweater inch by inch." Pg. xiv
• "If not checked, success has a way of covering up small failures, and when many of us at Starbucks became swept up in the company's success, it had unintended effects. We ignored, or maybe we just failed to notice, shortcomings. We were so intent upon building more stores fast to meet each quarter's projected sales growth that, too often, we picked bad locations or didn't adequately train newly hired baristas. Sometimes we transferred a good store manager to oversee a new store, but filled the old post by promoting a barista before he or she was properly trained. This was the kind of operational rigor that we let slip …" Pg. 40
• "My tendency to let enthusiasm morph into impatience was a trait widely known throughout the company – generally appreciated, but occasionally a cause of frustration." Pg. 125

About the Author
Howard Schultz
is the chairman, president, and CEO of Starbucks and the author of the
New York Times
bestseller
Pour Your Heart Into It
.
Joanne Gordon
is a former
Forbes
writer and contributing editor who has spent more than a decade profiling companies and business leaders for numerous publications including five previous books.

Table of Contents
| | | |
| --- | --- | --- |
| | | |
| | Introduction | xii |
| | | |
| | Part 1: Love | |
| 1 | A Beverage of Truth | 3 |
| 2 | A Love Story | 8 |
| 3 | Surfacing | 14 |
| 4 | Nothing is Confidential | 26 |
| 5 | Magic | 33 |
| 6 | Loyalty | 39 |
| 7 | Believe | 47 |
| | | |
| | Part 2: Confidence | |
| 8 | A Reservoir of Trust | 55 |
| 9 | A New Way to See | 69 |
| 10 | Playing to Win | 81 |
| 11 | Elevating the Core | 88 |
| 12 | Get In the Mind | 96 |
| 13 | A Reason to Exist | 102 |
| 14 | Benevolence | 116 |
| 15 | Beyond Status Quo | 123 |
| 16 | Bold Moves | 128 |
| | | |
| | Part 3: Pain | |
| 17 | Whirlwind | 139 |
| 18 | A Lethal Combination | 147 |
| 19 | Reverence | 155 |
| 20 | No Silver Bullets | 164 |
| 21 | I Know This to Be True | 170 |
| | | |
| | Part 4: Hope | |
| 22 | Truth in Crisis | 183 |
| 23 | A Galvanizing Moment | 192 |
| 24 | Nimble | 208 |
| 25 | Plan B | 217 |
| 26 | Stay the Course | 224 |
| | | |
| | Part 5: Courage | |
| 27 | Innovate | 239 |
| 28 | Conviction | 250 |
| 29 | Connecting Dots | 262 |
| 30 | Balance | 271 |
| 31 | Conscience | 287 |
| 32 | Winning | 296 |
| 33 | Ni Hao | 302 |
| | | |
| | Tribute | 313 |
| | Acknowledgements | 329 |
| | Photo Credits | 333 |
| | Index | 335 |

Find Items On Similar Subjects

It's Not About the Coffee
: Leadership Principles from a Life at Starbucks