Leading in Turbulent Times
Kevin Kelly and Gary E. Hayes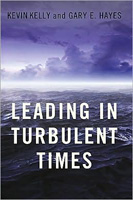 Format:
Hardcover, 250pp.
ISBN:
9781605095400
Publisher:
Berrett-Koehler Publishers
Pub. Date:
February 8, 2010
Average Customer Review:

For Bulk Orders Call: 626-441-2024

Description and Reviews
From
The Publisher:
Turbulent times are here to stay. The credit crunch is today's current dramatic headline, but accelerating change and economic uncertainty are the hallmarks of 21st century business. The volatility of commodity prices for example, especially oil, and fluctuations in currencies are all part of a broader weather system affecting business everywhere. These powerful forces for change are the corporate equivalent of headwinds, something which must be faced and navigated by all leaders and those they lead. The leadership challenge of the next few years is learning to fly with turbulence.
So what should you do as a leader to keep your business on course through the turmoil? Kevin Kelly and Gary Hayes have interviewed the frontline leaders who really know how to adapt to rapid change and help their companies overcome obstacles. They've spoken to CEOs and business leaders from some of the most successful companies in the US, Europe and Asia, such as McDonald's, General Electric, Nissan, Swiss Re, Marks & Spencer. Leading in Turbulent Times draws on these unique interviews to help you address the key questions for leading in turbulent times, such as:
How do you recognize the early signals?
How do you mobilize the people in your company to respond?
How do you build an effective and responsive strategy in the face of relentless change?
How do you deal with people who are resistance to change, no matter how essential it may be?
How can you learn to change direction swiftly and decisively?
How can you personally cope with leading your organization and your people through turbulent times?
Leading in Turbulent Times
helps you use turbulent change to your advantage, at a time when everyone else is being blown off course.

About the Authors
L. Kevin Kelly
is Chief Executive Officer of Heidrick & Struggles (www.heidrick.com), the world's leading search and advisory firm. One of a new generation of global CEOs, Kevin is a widely respected commentator on leadership in a changing business world. His book, CEO: The Low Down on the Top Job (Financial Times Prentice Hall, 2008), cemented his position as one of the most thoughtful observers of the inhabitants of the corporate corner office. The book was updated, expanded and published in North America as Top Jobs (Wharton, 2009). Before returning to his native America in 2008, Kevin spent a decade in Tokyo and three years in London. Named "Headhunter of the Year" in 2000 by Finance Intelligence Asia magazine and "one of Asia's Top Recruiters" four years running by AsiaMoney magazine, Kevin has extensive first-hand experience of building senior leadership teams for the world's most successful companies at board level across the Americas, Asia Pacific and Europe. He lives in Chicago.
Gary E. Hayes
is a Managing Partner of the New York-based human capital consultancy Hayes Brunswick and Partners LLC (www.hayesbrunswick.com). He has spent over 15 years working with corporate leaders to help them adapt to rapidly changing market conditions. Gary has a Ph.D. in counseling psychology from Columbia University, as well as Masters degrees in international affairs, psychological counseling, and counseling psychology from Columbia and a B.S. in Foreign Service from Georgetown University. He has served on the faculties of Columbia University; Yeshiva University; the National Institute for Psychotherapies; the Institute for the Psychoanalytic Study of Subjectivity; and Ecole Francaises des Attache des Press. Gary has published numerous articles on leadership development topics.

Table of Contents
| | | |
| --- | --- | --- |
| | | |
| | Chapter Summaries | xiii |
| | Introduction | xvii |
| | | |
| 1 | All Change | 1 |
| 2 | Knowing When the Winds are Coming | 27 |
| 3 | All Hands on Deck | 39 |
| 4 | Navigating a New Route | 67 |
| 5 | Mastering Mutinies | 87 |
| 6 | Learning to Tack | 101 |
| 7 | Living with Turbulence | 121 |
| 8 | Your Turbulent Checklist | 145 |
| | | |
| | Index | 157 |

Find Items On Similar Subjects

Harvard Business Review on Leadership in a Changed World