On Leadership
: Essential Principles for Success
Donald J. Palmisano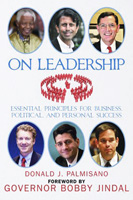 Format:
Paperback, 320pp.
ISBN:
9781616082314
Publisher:
Skyhorse Publishing
Pub. Date:
2 edition May 1, 2011
Average Customer Review:

For Bulk Orders Call: 626-441-2024

Description and Reviews
From
The Publisher:
Every day, leaders around the world make decisions that affect millions of people. The results of these decisions are mixed. Sometimes—like when Nelson Mandela led the fight against apartheid—our leaders inspire positive change on a grand scale. But at other times—like when various leaders failed to respond adequately to Hurricane Katrina—poor leadership yields disastrous outcomes. Anyone can claim to be a leader in times of calm, but crisis situations sift the true visionaries from the false ones. Recent events in global affairs make it increasingly apparent that nations must cultivate and encourage true leaders—and eschew false ones—if they hope to survive.
Fortunately, effective leadership is a skill that can be taught, especially through the study of exemplary figures of the past. In each chapter of
On Leadership
, Dr. Donald J. Palmisano cites an example of positive or negative action as a source from which to glean essential leadership lessons. Through guided analysis of each real-life situation, readers will learn detailed, practical methods and strategies for becoming true leaders. This book provides crucial advice for people who aspire to become effective leaders in any position.
This second edition includes two new chapters which are highly applicable to today's issues: "Leadership in Crisis: The British Petroleum Gulf Oil Spill," and "Emerging Leaders in a Time of Crisis." On Leadership provides crucial advice for those who aspire to become effective leaders in any position. 13 color and 4 black-and-white illustrations

Reviews
"Whether you're looking to improve a management style or inspire others, this book is an invaluable tool."
—Bill Frist, former U.S. Senate Majority Leader
"Donald Palmisano has built himself into not only a successful surgeon and businessman, but a strong leader as well."
—Louisiana Governor Bobby Jindal

About the Author
Donald J. Palmisano M.D., J.D.
, is a graduate of Tulane Medical School and Loyola Law School. He serves on the Board of Governors of the National Patient Safety Foundation, the Board of Governors of the Tulane University Health Sciences Center, the editorial board of the Journal of Patient Safety, and the Board of Governors of the Doctors Company. He lives in New Orleans.

Find Items On Similar Subjects

The Little Red Book of Leadership Lessons

On Leadership