The Way of Innovation
: Master the Five Elements of Change to Reinvent Your Products, Services, and Organization
Kaihan Krippendorff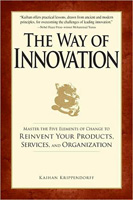 Format:
Paperback, 256pp.
ISBN:
9781598693799
Publisher:
Platinum Press
Pub. Date:
July 1, 2008
Average Customer Review:

For Bulk Orders Call: 626-441-2024

Description and Reviews
From
The Publisher:
Innovation is not an option. It is a fundamental requisite of survival. Throughout history, innovative societies have dominated their less creative rivals, and innovative companies, their competition. Yet we remain ineffective in this critical skill because we have been our modern understanding of change, rooted in just a few hundred years of study, ignores insights gleaned thousands of year prior. The Way of Innovation shows how we can use ancient Hindu and Chinese frameworks for change to become more effective innovators by navigating five phases of change:
"Metal" – collapse: how to recognize you are stuck
"Water" – imagination: how to conceive of new "winning" options
"Wood" – emergence: how and when to persist when you produce no tangible results
"Fire" – breakout: how to lead your innovation past the tipping point
"Earth" – consolidation: how shift into a state of sustainability

About the Author
Kaihan Krippendorff
is the author of "The Art of the Advantage" (Thomson TEXERE 2003) and the President of The Strategy Learning Center, a business education firm. He helps organizations outthink their competition by showing that our typical problem-solving approaches unnecessarily limit our options and that, by adding a fundamentally different, creative approach to our toolkits, we can more consistently see "winning moves" that our competitors ignore. He blends the disciplines of competitive strategy, innovation, cognition, and Eastern philosophy to build strategic creativity throughout organizations. A former consultant with McKinsey & Company, Kaihan has held various senior management positions in the consulting, investment banking, and retail sectors. He serves large and medium-sized companies including Microsoft, Fidelity, and Pfizer. He holds an MBA from Columbia Business School and London Business School, a BSE in Finance from the Wharton School of Business, and a BSE in Engineering from the University of Pennsylvania's School of Engineering. He lives in Miami, Florida.

Table of Contents
| | | |
| --- | --- | --- |
| | | |
| | Acknowledgments | |
| | | |
| | Innovation's Source | |
| | The Innovation Shift | |
| | An Ancient Framework for Change | |
| | The Five Phases | |
| | Metal: Discontent | |
| | Water: Imagination | |
| | Wood: Formation | |
| | Fire: Breakout | |
| | Earth: Consolidation | |
| | Application | |
| | Leading Innovation | |
| | Leadership Implications-Unleashing Innovation | |
| | Case Studies | |
| | Infosys and the Rise of Software Outsourcing | |
| | Urban Outfitters-The Retailer Run by Customers | |
| | Puma and the Rise of Sports Fashion | |
| | Nokia and the Mobile Phone Revolution | |
| | Microsoft and the Emergence of Software | |
| | Muhammad Yunus and the Invention of Microcredit | |
| | Ted Leonsis and the Discovery of Filmanthropy | |
| | The Thirty-Six Stratagems | |
| | | |
| | A Note on How the Discussed Companies Were Chosen | |
| | Index | |

Find Items On Similar Subjects

The Art of Innovation
: Lessons in Creativity from IDEO, America's Leading Design Firm