A Failure of Nerve
: Leadership in the Age of the Quick Fix -
Revised Edition
Edwin H. Friedman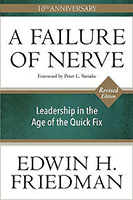 Format:
Paperback, 288pp.
ISBN:
9781596272798
Publisher:
Church Publishing
Pub. Date:
Revised edition May 01, 2017
Average Customer Review:

For Bulk Orders Call: 626-441-2024

Description and Reviews
From
The Publisher:
Foreword by Peter Steinke - Magnum opus of leading figure in application of family systems theory to congregations - Widely used in seminary and continuing education since 2007 first publication - Revised 10th anniversary edition of best-seller
Ten years after his death, Edwin Friedman's best-selling
A Failure of Nerve
continues to offer insights into leadership that are more urgently needed than ever, and this revised, anniversary edition is essential reading for all leaders, be they parents or presidents, corporate executives or educators, religious superiors or coaches, healers or generals, managers or clergy.
Friedman was the first to tell us that all organizations have personalities, like families, and to apply the insights of family therapy to churches and synagogues, rectors and rabbis, politicians and teachers. His understandings about our regressed, "seatbelt society," oriented toward safety rather than adventure, help explain the sabotage that leaders constantly face today. Suspicious of the "quick fixes" and instant solutions that sweep through our culture only to give way to the next fad, he argued for strength and self-differentiation as the marks of true leadership. His formula for success is more maturity, not more data; stamina, not technique; and personal responsibility, not empathy
A Failure of Nerve
was unfinished at the time of Friedman's death and originally published in a limited edition. This new edition cleans up some oversights in the original and brings his life-changing insights and challenges to a new generation of readers.

Reviews
"Reading this book is like discovering an unpublished Beethoven sonata or a missing play of Shakespeare. Ed Friedman was one of our most brilliant, original, and provocative thinkers across the fields of therapy, ministry, and organizational leadership."
—Professor William J. Doherty, Director, Marriage and Family Therapy Program, University of Minnesota
"The age that is upon us requires differentiated leadership that is willing to rise above the anxiety of the masses. We need leaders who will have the "capacity to understand and deal effectively" with the hive mind that is us. This is, in Friedman's words, 'the key to the kingdom.' I am grateful for this accessible new edition."
—C. Andrew Doyle, Bishop, Episcopal Diocese of Texas
"In seminary, I learned to exegete scripture, to craft a sermon, to think theologically. I did not learn how to lead a congregation. In A Failure of Nerve, Ed Friedman invites leaders to cast a courageous and imaginative vision, to lead resiliently, and to be present and steady in times of deep anxiety; qualities of leadership more urgently needed now than at any time in my memory. My students find excitement and energy in the adventure of leadership Ed invites us to embrace.
—Gina Campbell, Visiting Professor of Worship, Wesley Theological Seminary, and Adjunct Faculty, Center for Family Process
"Perhaps more than ever, we need to prepare ourselves for increasing our maturity, which means taking responsibility for our own emotional functioning. As Friedman's mentor, Murray Bowen, succinctly reminded us, 'If you lower anxiety one notch, it's a better world.' We all owe thanks to Edwin Friedman for helping us in this process."
—Peter L. Steinke, author of How Your Church Family Works and other books (from foreword)


Reader's Index
Send us your favorite quotes or passages from this book
.
• "This book is for parents and presidents. It is also for CEO's and educators, prioresses and coaches, healers and generals, managers and clergy. It is about leadership in the land of the quick-fix, about leadership in a society so reactivethat it cannot choose leaders who might calm its anxiety. It is about the need for clarity and decisiveness. It is for leaders who have questioned the widespread triumphing of data over maturity, technique over stamina, and empathy over personal responsibility. And it is for anyone at all who has become suspicious of the illusions of change -- suspicious of the modern fashion wherein solutions, as well as symptoms, burst upon us in every field of endeavor (management, healing, education, parenting) and then disappear as unexpectedly as they had first appeared, only to be supplanted by the fad of another "issue" or cure, sending everyone back to square one. The emphasis here will be on strength, not pathology, on challenge, not comfort, on self-differentiation, not herding for togetherness. This is a difficult perspective to maintain in a "seatbelt society" more oriented toward safety than adventure." From Introduction
• "Yet despite the fact that the preservation of self has proved vital to the preservation of life both biologically and politically, the force for individuality is suspect when it comes to human institutions. As I have tried to demonstrate, it is not necessary to have authoritarian dictators to destroy the integrity of a democratic society's citizens. One only has to keep escalating the togetherness-promoting anxiety so that the individuality is not only squelched, it becomes instinctively feared. This is true generally and all the more so in critically anxious societies. The emphasis on family togetherness and team building in our culture has value, but that is not what is needed"
... "the evolution of a society requires that the universal tension between the forces of individuality and the forces for togetherness must be kept within some balance range. But when that balance goes beyond certain thresholds, as occurs in periods of chronic anxiety, then-whether we are considering an individual organism, a specific institution , or society itself-we wind up not with evolutionary processes but with the devolutionary extremes of totalitarianism or anarchy, tyranny or tumors"
... "Its is only when self is valued that leaders can be less at the mercy of the data/technique deluge, no less its addictive properties. It is only when leaders value self that their cortex can be kept from the service of the reptilian brain and the cerebration can be true thinking." From Pg 173 Reader: Eric Keck from Montpelier

About the Author
Edwin H. Friedman
was an ordained rabbi and practicing family therapist. His ground-breaking volume Generation to Generation, which exposed the connections between emotional processes at home and at work in religious, educational, therapeutic, and business systems, has become a modern classic. In great demand as a consultant and public speaker throughout the country, he lived in Washington DC. He died in 1996.

Table of Contents
| | | |
| --- | --- | --- |
| | Acknowledgments | vii |
| | Editor's Preface | ix |
| | | |
| | Introduction: The Problem with Leadership | 1 |
| 1 | Imaginative Gridlock and the Spirit of Adventure | 29 |
| 2 | A Society in Regression | 51 |
| 3 | Data Junkyards and Data Junkies: The Fallacy of Expertise | 95 |
| 4 | Survival in a Hostile Environment: The Fallacy of Empathy | 132 |
| 5 | Autocracy Versus Integrity: The Fallacies of Self | 158 |
| 6 | Take Five | 187 |
| 7 | Emotional Triangles | |
| 8 | Crisis and Sabotage: The Keys to the Kingdom | 229 |
| | Epilogue: The Presence of the Past | 248 |
| | | |
| | Index | 253 |

Find Items On Similar Subjects

Authentic Leadership
: Rediscovering the Secrets to Creating Lasting Value • Paperback