Off Balance
: Getting Beyond the Work-Life Balance Myth to Personal and Professional Satisfaction
Matthew Kelly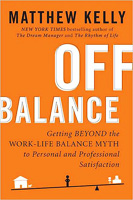 Format:
Paperback, 143pp.
ISBN:
9781942611332
Publisher:
Blue Sparrow
Pub. Date:
July 5, 2015
Average Customer Review:

For Bulk Orders Call: 626-441-2024

Description and Reviews
From
The Publisher:
The prescriptive follow-up to the New York Times bestseller
The Dream Manager
.
One of the major issues in our lives today is work-life balance. Everyone wants it; no one has it. But Matthew Kelly believes that work- life balance was a mistake from the start. Because we don't really want balance. We want satisfaction.
Kelly lays out the system he uses with his clients, his team, and himself to find deep, long-term satisfaction both personally and professionally. He introduces us to the three philosophies of our age that are dragging us down. He shows us how to cultivate the energy that will give us enough battery power for everything we need and want to do. And finally, in five clear steps, he shows us how to use his Personal & Professional Satisfaction System to establish and honor our biggest priorities, even if we spend a lot more time on some of the lesser ones.

Reviews
"So many people today aspire to be the best version of themselves but slowly sacrifice that vision to the demands of full and busy lives. How helpful to read a work that takes us beyond that constant tug-of-war to a place where balance with grace, rather than imbalance with regret, is the outcome. "
—Andy Lorenzen, Director, Talent Strategy, Chick-fil-A, Inc.
"Off-Balance is not for everyone only those who are interested in finding more energy and satisfaction in life. But if you re one of those, then this short, compelling and well-organized book might just rock your world.
—Patrick Lencioni, president, The Table Group; author, The Five Dysfunctions of a Team
"Matthew Kelly s Off Balance properly reframes the question of work-life balance into a question of personal satisfaction. I personally believe that living a life driven by a purpose is more meaningful and rewarding than meandering through life without direction. We find that employees, who live their purpose in everything they do, have higher personal satisfaction.
—Robert A. McDonald, Chairman, President, and Chief Executive Officer, The Procter & Gamble Company
"There is nothing more difficult, as working mothers and fathers both know, than juggling personal and professional demands without sacrificing their own happiness. We re so happy to hear a male perspective shared by Matthew Kelly, who shows us how to align our priorities to get what we are really looking for life satisfaction. Everyone with a job (inside or outside the home) should read this book."
—Cathy L. Greenberg and Barrett S. Avigdor, New York Times best selling authors, What Happy Working Mothers Know

About the Author
Matthew Kelly
is an internationally acclaimed speaker and author, as well as the founder and president of Floyd Consulting. Over the past decade, he has given more than 2,500 keynote presentations and has done conventions for Fortune 500 companies, national trade associations, professional organizations, universities, churches and nonprofits. He lives in Cincinnati.