Drive
: The Surprising Truth About What Motivates Us
Daniel H. Pink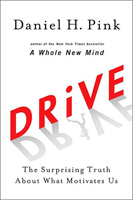 Format:
Hardcover, 256pp.
ISBN:
9781594488849
Publisher:
Riverhead Hardcover
Pub. Date:
December 29, 2009
Average Customer Review:

For Bulk Orders Call: 626-441-2024

Description and Reviews
From
The Publisher:
Forget everything you thought you knew about how to motivate people--at work, at school, at home. It's wrong. As Daniel H. Pink explains in his new and paradigm-shattering book
Drive: The Surprising Truth About What Motivates Us
, the secret to high performance and satisfaction in today's world is the deeply human need to direct our own lives, to learn and create new things, and to do better by ourselves and our world.
Drawing on four decades of scientific research on human motivation, Pink exposes the mismatch between what science knows and what business does--and how that affects every aspect of our lives. He demonstrates that while the old-fashioned carrot-and-stick approach worked successfully in the 20th century, it's precisely the wrong way to motivate people for today's challenges. In
Drive
, he reveals the three elements of true motivation:
Autonomy - the desire to direct our own lives
Mastery - the urge to get better and better at something that matters
Purpose - the yearning to do what we do in the service of something larger than ourselves
Along the way, he takes us to companies that are enlisting new approaches to motivation and introduces us to the scientists and entrepreneurs who are pointing a bold way forward.
Drive
is bursting with big ideas-- the rare book that will change how you think and transform how you live.

Reviews
"Pink's analysis--and new model--of motivation offers tremendous insight into our deepest nature."
—Publishers Weekly
"Important reading...an integral addition to a growing body of literature that argues for a radical shift in how businesses operate."
—Kirkus
"Drive is the rare book that will get you to think and inspire you to act. Pink makes a strong, science-based case for rethinking motivation--and then provides the tools you need to transform your life."
—Dr. Mehmet Oz, co-author of YOU: The Owners Manual

About the Author
Daniel H. Pink
is the author of the long-running New York Times and BusinessWeek bestseller
A Whole New Mind
, as well as
The Adventures of Johnny Bunko
and
Free Agent Nation
. He has written for The New York Times, Harvard Business Review, Fast Company, and Wired, where he is a contributing editor. He has provided analysis for CNN, CNBC, ABC, NPR, and other networks in the U.S. and abroad. Pink lectures on economic transformation and the new workplace at corporations, associations, and universities around the world.

Find Items On Similar Subjects

A Whole New Mind
: Why Right-Brainers Will Rule the Future - P